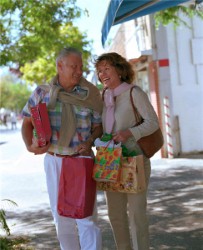 Labels affect society in many different ways, and product marketers are taking advantage of people's reactions to promote products by using custom labels
Denver, CO (PRWEB) October 17, 2012
Lightning Labels, a printing leader in custom stickers and labels, has found that labels affect almost all of the decisions American consumers make, from what food to eat, which products to buy and what clothing to wear. "Labels affect society in many different ways, and product marketers are taking advantage of people's reactions to promote products by using custom labels," says Business Development Manager AnneMarie Campbell. An article from NPR's food blog, "The Salt," in September 2012 goes as far as saying labels have become one of the main - if not only - factors affecting people's purchasing decisions. According to a University of Michigan marketing professor, more people blindly believe information on labels.
The idea was also illustrated in a recent study about labels, in which people were given two cookies of the same size, though they were labeled medium and large. Even though there were no differences in the cookies, it affected how much people ate of the cookies. People who were given cookies labeled "medium" were more likely to finish the cookie, and people given cookies with a "large" label were more likely to eat a portion and save the rest for later.
Through analysis of this recent market research, Lightning Labels recognizes the importance of label honesty and packaging standards. Although there are product advertising and marketing laws that protect consumers and companies alike, people should still be diligent in determining whether custom labels are truthful or if they are an accurate reflection of the product. For example, portion sizes at restaurants may be labeled the same in different establishments, but actually vary greatly.
The same issues are found in the clothing industry, and brands' sizes are known to differ depending on the store and type of clothing. For instance, a medium-sized article of clothing is likely somewhere between a size small and large, but that same medium-sized clothing may be smaller than another store's size small. As confusing as it sounds, it has trained Americans to be increasingly confused about their sizes. In an effort to make people feel better about themselves and ultimately convince them to purchase clothing, retailers and clothing companies are tweaking sizes even further, which gives people the impression that they can fit into smaller sizes, otherwise known as vanity sizing.
Lightning Labels' product experts note the benefits to label and sizing standards. Some experts believe that in a perfect world, all product labels and sizing would follow the same sizing standards. A large cookie from one store would be the same size as a large cookie from another, and size 4 jeans from any retailer or clothing company would have specific size standards. Consumers can rest easy knowing companies are required to follow specific labeling and packing restrictions from the Federal Trade Commission, but they should still be diligent in paying attention to labels when buying products from any company.
To create your own custom labels, Lightning Labels has announced a fall savings event, valid Tuesday, October 16, 2012, through Wednesday, October 24, 2012: Save 15 percent on new label orders. Simply enter code FALL15 at checkout. This offer is valid on new label orders only and does not apply to reorders. The maximum discount is $1,000. Lightning Labels will offer free ground shipping to regularly priced orders shipped within the United States and Canada. This offer cannot be combined with any other offers or promotion.
About Lightning Labels:
Lightning Labels uses state-of-the-art digital printing technology to provide affordable, full-color custom labels and stickers of all shapes and sizes, and now offers a full line of custom packaging products. From small orders for individuals, to the bulk needs of big businesses, Lightning Labels is equipped to handle and fulfill sticker, label and product packaging projects of all types. Best of all, like the name implies, Lightning Labels provides a quick turnaround to every customers' labeling and product packaging needs. Uses for Lightning Labels custom product labels and custom stickers include food packaging and organic food labels, wine and beverage labels, bath and body labels, and nutraceutical products, such as vitamins, essentials oils, and herbal remedies, as well as event stickers, adhesive window stickers and more. Lightning Labels strongly supports the development of environmentally friendly printing materials and carries EarthFirst PLA, a new kind of green label material made from corn instead of petroleum. While operating as a high-tech printer, Lighting Labels prides itself on its personalized customer service. Lightning Labels provides one stop shopping for all of your label and product packaging needs. For more information and to place orders online, visit LightningLabels.com. For the latest in packaging news and labeling promotional offers, find Lightning Labels on Facebook, Twitter (@LightningLabels), and Google+.