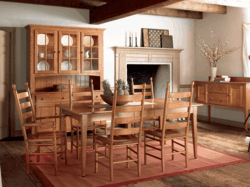 offering Amish Furniture enthusiasts everywhere a wealth of creative ideas and input from America's most competent interior designers
Lancaster, PA (PRWEB) October 16, 2012
The DutchCrafters Amish Furniture Designer of the Year initiative was founded and designed by DutchCrafters CEO Jim Miller to recognize and promote the many hard-working interior designers and decorators across America, while, at the same time, giving back to the community and DutchCrafters customers.
The initiative is described as follows:
Featured designers will be awarded a Designer of the Month profile on DutchCrafters, and will remain in the spotlight for the duration of the month, after which their tips and suggestions will be archived for customers indefinitely. At the end of each year, customers across America will be invited to review the archived profiles and vote for their favorite designer, as contestants compete for the title of DutchCrafters Designer of the Year. The winner, along with special recognition as DutchCrafters Designer of the Year, will be grated the distinct privilege of selecting their favorite charity to receive a $1,000 donation from DutchCrafters.
Along with supporting the many designers and decorators of America, DutchCrafters hopes the initiative will also benefit customers who are looking for inspiration as they shop by providing them with access to a wealth of creative ideas and input from competent designers throughout the United States.
DutchCrafters content developer in charge of designer profiles, Tom Grimes, said, "We can't wait to showcase some of America's finest designers, who use Amish furniture in creative and inspiring ways. America will definitely enjoy browsing the designer profiles, picking up on inspirational ideas and design-strategy, and putting those ideas and strategies to good use in their own homes."
DutchCrafters.com is visited by 75,000 to 80,000 American-furniture enthusiasts each month, making it an ideal location to benefit both industry-providers and industry-consumers. The program promises to provide a unique wealth of knowledge to DutchCrafters customers, while providing invaluable exposure for the hard-working, qualified interior designers of America.
Moreover, on top of the exposure designers will receive from the Designer of the Month platform on DutchCrafters.com, they will gain further promotional opportunities through DutchCrafters social media channels, their designer-profile will be maintained indefinitely allowing for potential exposure to DutchCrafters 900,000+ annual visitors, and they will be automatically entered into the DutchCrafters Designer of the Year competition for a chance to earn a $1,000 donation for the charity of their choice. Business clients of designers may also be interested in the opportunity to develop publicity through the initiative.
Just last year DutchCrafters sought to give back to the community with the establishment of the DutchCrafters Amish Furniture Heritage Scholarship, awarded to five exceptional students each year. With the expansion of its community outreach to include an annual donation of $1,000 DutchCrafters associates are very proud. DutchCrafters founder and CEO Jim Miller himself describes the opportunity to give back as "a privilege and a responsibility."
The DutchCrafters Designer of the Year challenge launches in 2013, beginning promptly in January. Designers will be required to provide a brief overview of their company and qualifications, as well as a description of a recent project, with tips, photographs, and design-strategy. They will also be asked to identify their three favorite DutchCrafters products to share and relate with customers.
Hopeful designers are invited to apply to be featured in front of DutchCrafters 75,000 monthly audience at http://www.dutchcrafters.com/design.aspx.
About DutchCrafters: Founded in 2003 by Jim and Linse Miller, DutchCrafters is the internet's largest retailer of hardwood, Amish-handcrafted furniture and crafts. Since 2003, DutchCrafters has partnered with over 70 Amish and Mennonite workshops, and guarantees every product on-site is made in America. DutchCrafters maintains an A+ rating with the Better Business Bureau, and offers customers easy payment plans, and free stain samples.