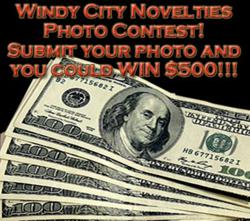 Chicago, IL (PRWEB) October 16, 2012
Windy City Novelties, online party supply retailer, is hosting a Costume Contest for the upcoming Halloween holiday. The contest is presented on Windy City Novelties' Facebook Page. Chosen winners will be awarded with cash prizes. The contest begins now and continues until November 7th.
To enter the contest, individuals must first become a fan of Windy City Novelties' Facebook Page at http://www.facebook.com/WCNovelties. Then, they must select or take a photo of themselves, their children, or their spouse and send it via e-mail to egleason(at)wcnovelties(dot)com. Only one photo per contestant may be submitted. The photo will then be added into Windy City Novelties' "Halloween Costume Contest" Facebook photo album, and will continue to be displayed in the album until noon on Wednesday, November 7th.
In order for contestants to win, they must receive the most "Likes" on their photo in the "Halloween Costume Contest" photo album on Facebook. Participants may advertise their photo to family, friends, co-workers, etc. in efforts to receive more "Likes". The photo that receives the most "Likes" will be awarded with a $500 cash prize. Therefore, the earlier an individual submits their photo, the more time they have to accumulate Facebook "Likes". In the unlikely event of a tie for most "Likes", the prize will be awarded to the participant of the tie that entered in their photo the most recently. This is due to the fact that they received the most "Likes" on their photo in the shortest amount of time.
Another prize will be awarded to the individual with the most creative costume. The winner of this title will be determined through a vote by the staff members of Windy City Novelties. The participant that receives "Most Creative Costume" will be awarded with a $150 cash prize.
Windy City Novelties wants to remind contestants that this will be a fair competition and cheating will not be tolerated. There will be only one photo entered per person. Windy City Novelties reserves the right to disqualify any contestants that do not comply with these terms. They also reserve the right to reject any photo entries that they may find offensive. Participants must follow these rules in order to be eligible to win one of the two prizes.
Windy City Novelties is the number one online source for party supplies, novelties and glow products. They also provide a great selection of costumes, along with costume accessories and Halloween makeup. Their website allows customers to easily search the site to find what they are looking for by means of various, detailed costume categories.