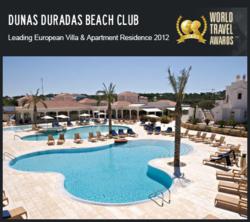 To receive another award of such prestige, voted by travel professionals from all over the World, is indeed a unique achievement and goes to show that perseverance and meeting our clients' needs are primordial to success.

Evy Ougendal, CEO
Algarve, Portugal (PRWEB UK) 16 October 2012
A packed delegation of VIPs, senior tourism figures and international media travelled from 35 nations to attend the event, which was held in partnership with Conrad Algarve and Turismo do Algarve.
It was an evening of sweet success for tourism related businesses across the Algarve, and indeed for the Algarve itself (Europe's Leading Beach Destination) and Portugal as a whole (Europe's Leading Golf Destination) fending off strong competition from other European contenders. The WTA awards programme, founded in 1993 and hailed as the 'Oscars of the travel industry' by the global media, highlights and rewards those travel brands that have made the greatest contribution to the industry over the past year.
Evy Ougendal, CEO Dunas Douradas Beach Club, was proud to receive yet another bench mark Award, Europe's Leading Villa & Apartment Residences 2012, after having won the Bloomberg Best Development Europe, less than 2 years ago, "To receive another award of such prestige, voted by travel professionals from all over the World, is indeed a unique achievement and goes to show that perseverance and meeting our clients' needs are primordial to success".
Graham E. Cooke, President & Founder, underlined the depth and quality of the travel and tourism sector across Europe. He says: "During times of economic austerity world-class brands come into their own, and the winners at our Europe Ceremony represent the cream of the continent. He adds: "The ceremony has also served as a fitting spotlight for the Algarve, reflecting the vital role of tourism in the region and its overall contribution to the Portuguese economy. The Algarve is also one of the most beautiful stretches of coastline in the world, and the new Conrad Algarve has set a new precedent for luxury."
António Pina, President, Algarve Promotion Bureau & Algarve Tourism Board, says: "It was with enormous pride that Algarve hosted such a prestigious event as World Travel Awards. This was a unique opportunity to promote the region as a first-class destination, with exceptional facilities and an enviable climate like no other country in Europe. We are delighted and grateful to the organisation to have chosen Algarve for such a memorable event."
Note; WTA serves to acknowledge, reward and celebrate excellence across all sectors of the global travel and tourism industry and the awards are voted by travel agents worldwide.