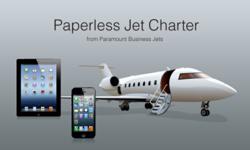 Offering Members a more secure, efficient and cost-effective method of chartering aircraft
Tampa, FL (PRWEB) October 16, 2012
Already the pioneer of exclusive Transparent Private Jet Charter Pricing, Paramount Business Jets (PBJ) continues to be a leading innovator in the air charter industry with the introduction of the company's new Paperless Charter Booking feature.
"As one of our newest innovations, Paperless Charter Booking allows Paramount Jet Card holders to charter a private jet to any destination with just one email confirmation," explained Richard Zaher, founder and CEO of Paramount Business Jets. "This offers our members the ultimate in convenience - they literally have hundreds of aircraft options available, right in the palm of their hands on their smartphone."
The Paramount Jet Card allows members to book charter jet travel utilizing PBJ's exclusive broker-level transparent wholesale pricing, that clearly lists operator pricing and PBJ's commission, as well as the client's savings -- thus eliminating any guesswork over charges. Every Paramount Business Jets trip quote includes all broker discounts and savings applied, with a mere 10% to 15% trip management fee added, based on membership level.
Unlike with most other aircraft brokerage services, PBJ Members only pay Federal Excise Tax (FET) on the actual charter cost, providing clients with even more savings.
"Our Transparent Private Jet Charter Pricing saves members between 20% and 40% regularly when compared to fixed hourly jet card members, and fractional programs," Zaher added. "Perhaps even more importantly than our substantial price advantage, however, our members appreciate Paramount Business Jets' upfront and clear explanation of all services.
"We have based our entire business model upon fair business dealings and transparency, offering members a more secure, efficient and cost-effective method of chartering aircraft."
Paramount Business Jets researches over 1,000 trips per month for its clients, including one-way and transient flight specials, and potential savings on empty legs. After completing the necessary New Member paperwork and placing a minimum deposit of $100,000 (USD), Paramount Jet Card holders have access to over 15,000 business aircraft worldwide -- including turboprop aircraft, helicopters, very-light jets, light jets, midsize jets, large jets as well as the most luxurious intercontinental aircraft such as the Boeing Business Jet, Airbus ACJ, and the Global Express.
Members also benefit from having a dedicated private aviation consultant available to assist with their booking needs, as well as secondary points of contact available 24/7 by phone or email. These highly-trained aviation consultants are able to book charter flights with as little as 3 hours notice worldwide, as well as assist with a variety of trip-planning services including ground transportation and catering options.
"Now with our Paperless Jet Charter Booking service, members may send an email, make a request from their smartphone, or call their consultant to determine the options for their flight," Zaher continued. "Our consultants take into account the customer's preferred aircraft and pricing, and provide the member with pictures of the actual aircraft to be used, operator history, and even safety ratings."
Paramount Business Jets invites anyone interested in learning more about Transparent Private Jet Charter Pricing, the Paramount Jet Card, or the new Paperless Charter Booking feature to contact the company with any questions, comments or concerns. To discuss your private jet travel plans with a charter professional, please contact the experienced PBJ team at (877) 727-2538.
****
Founded in 2005 by a pilot and Aeronautical Sciences graduate of Embry Riddle Aeronautical University, Paramount Business Jets is known throughout the charter industry for its exceptional services. The company prides itself on its relationship with well-known operators, and use of the latest technology to offer its members a larger selection of Part 135, pre-approved business aircraft. For more information, visit http://www.paramountbusinessjets.com.