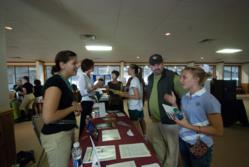 "We really enjoyed the College Fair this weekend," one parent told us. "We've attended in the past, as well, but it has so much more meaning now that (our student) is a senior."
Houston, TX (PRWEB) October 17, 2012
Continuing its passion for education, The Pin Oak Charity Horse Show chose to expand its support of young riders by hosting the Fourth Annual Texas Hunter Jumper Association (THJA) College Equestrian Fair in the Texas Children's Hospital Arena Club located at the Great Southwestern Equestrian Center in Katy, Texas. Young riders who spend countless hours dedicated to the sport in their lower, middle and high school years, graduate and ask themselves, "Now what?"
"We really enjoyed the College Fair this weekend," one parent told us. "We've attended in the past, as well, but it has so much more meaning now that (our student) is a senior."
With the growing interest in collegiate equestrian teams, The Pin Oak Charity Horse Show decided to provide a forum to educate high school students and their parents on how to become a potential candidate for a college equestrian team… and more. The Pin Oak Club chose a select group of Division l & ll and ISHA colleges in addition to other handpicked schools from around the country with equestrian riding teams as well as equine studies to promote their programs and provide aspiring riders with a "one-stop-shopping" experience to learn what these colleges offer and hopefully find a course of study that fits their goals—both in and out of the show ring. One college even represented equestrian polo teams.
The fair was enthusiastically received by the 134 prospective college students and their families. Nineteen colleges were represented by admission representatives, collegiate equestrian coaches and alumni. The flurry of activity around all the booths was exciting as both students and parents kept the representatives on their toes by asking questions.
"Speakers, college reps and programs are fantastic!" exclaimed one attendee.
Featured speakers were Sally Bratton representing IHSA and Andrea Hanson representing NCEA. Margaret Swanson, who represented Varsity Riding, closed the event with an original poem entitled, My Ode to the College Riding Experience. The last verse stated:
"And so with a poem, an ode per say, I congratulate those
Who made the best decision in their lives and chose
To ride in the IHSA with the best people and horses,
It will lessen the pain of those silly college courses."
Title sponsorship was generously provided by the THJA with facility sponsorship by the Great Southwest Equestrian Center.
"Great location, great staff, and the event was free. A lot of riders were present!" said one very pleased college representative.
The Fourth Annual THJA College Equestrian Fair was such a hit with students, parents and the college representatives that The Pin Oak Charity Horse Show is already planning next year's event.
For more information and schedules of events, please visit http://www.pinoak.org or call 713-621-6290.