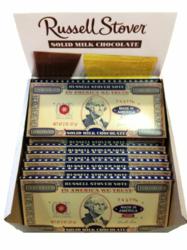 Who doesn't love chocolate? It's Perfect for any gift ideas
Elma, New York (PRWEB) October 16, 2012
Some of the biggest sellers at the Made In America Store this holiday season will be Jewelry from Wendell August, Toys from K'NEX and scented soy candles from Mostly Memories. Russell Stover will be on the roster of fast moving products with their Made In America Store branded Candy Bars. In time for holiday shopping, the all US made products store is offering the Candy Bar at a discount.
Click here to start shopping for 100% American made products, including the Russell Stover "Billion Dollar Note" Candy Bar!
The chocolate candy bars from Russell Stover accurately resemble a billion dollar note, if there ever was going to be one. Wrapped in gold foil, the Candy Bars make perfects gifts, stocking stuffers and on-the-go snacks. Right now, consumers can get a case of the American Candy bars for $17.00, saving customers $5.00 a case. Consumers can also get individual Candy Bars at 75 cents a bar, taking a quarter off the original price.
"These Candy Bars from Russell Stover are the perfect gift," said Made In America Store's Vice President, Dan Andol. "Who doesn't love chocolate? It's Perfect for any gift ideas."
The Made In America Store is adding a special bonus to those who purchase the all American made Candy Bars. Lonestar, the Country Music Superstars, will be coming to Western New York on November 14th as part of their 20th Anniversary Reunion Tour. Although tickets are sold out, the Made In America Store has a couple pairs of tickets to give to fans.
Click here to shop for your 100% USA manufactured Russell Stover "Billion Dollar Note" Candy Bar from the Made In American Store and enter to win Lonestar Tickets!
For every Candy Bar Purchased, it will grant the consumer and entry into the contest. There is no limit to how many entries can be submitted. Winners will be announced Friday November 9th, giving participants enough time to pick up the tickets.
The Made In America Store is the only brick and mortar store that sells 100% made in the United States products from over 350 vendors. Consumers can visit http://www.MadeInAmericaStore.com or call 716-652-4872 to get more information or shop our catalog of over 3,500 items. Both Active Duty Military Personnel and U.S. Military Veterans receive a 10% discount every day. Followers of the "Made In America" movement can keep updated with the Made In America Store through Facebook, Twitter, Google+, Pinterest, FourSquare and even their own blog on Wordpress.