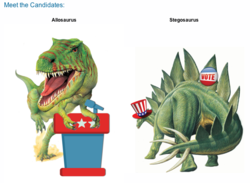 Our mission with this interactive sweepstakes is to introduce Dinosaurs! in a manner that is just as fun and engaging as the series itself.
Chicago, IL (PRWEB) October 17, 2012
World Book announces that it is hosting a fictitious contest between Allosaurus and Stegosaurus for Dino in Chief of Dinosauria. Voters can visit World Book's polling place from now through Tuesday, Nov. 6, to cast their ballot for the next ruler of the fictional land. After submitting their vote, they'll be automatically entered into a sweepstakes to win World Book's newest print nonfiction series, Dinosaurs!
This four-volume collection brings into striking focus the mighty beasts that ruled our planet for millions of years. The books cover all the major groups of dinosaurs, from fierce meat-eaters to the gentle giants that fed on plants. In addition, Dinosaurs! marks World Book's inaugural effort in coupling print with a complementary site of digital resources. Each print volume offers links to related videos, activities, and fun facts.
"Our mission with this interactive sweepstakes is to introduce Dinosaurs! in a manner that is just as fun and engaging as the series itself," said Don Keller, president of World Book. "By combining print and digital resources in one affordable product, Dinosaurs! strongly supports key curriculum and Common Core standards which call for an increased emphasis on nonfiction literacy and the mastery of learning from both traditional and digital content."
About Dinosaurs!
Dinosaurs! is an up-to-date survey of these inexhaustibly interesting animals. In this 4-volume series, readers will encounter such familiar favorites as Tyrannosaurus and Apatosaurus. They also will encounter such recently discovered marvels as the feathered dinosaurs that gave rise to birds. Titles include: Giant Dinosaurs: The Sauropods; Fierce Dinosaurs: The Large Theropods; Armored and Duckbilled Dinosaurs: The Ornithischians; and Birdlike Dinosaurs: Small Theropods and Prehistoric Birds.
QR Codes on select pages in each volume point to videos, quizzes, and related content on a complementary web site.
Dinosaurs! is priced at only $75 for school and library purchasers; and at only $83 for home purchasers.
Order Dinosaurs! at World Book's online store, or school and library customers can contact their World Book representative at 800-975-3250.
About World Book
World Book, Inc. sets the standard in publishing accurate, current, and reliable reference and learning materials for children and adults. Based in Chicago, World Book is committed to creating educational products in print and digital forms that meet the highest standards of editorial excellence. This commitment has resulted in a wide range of products including the quintessential World Book Encyclopedia; the World Book Web, a comprehensive and authoritative online solution meeting the diverse information needs of students, educators, public library patrons, and families; and World Book Classroom, innovative and effective teaching resources to improve learning in libraries, classrooms, and at home.
World Book's public site, http://www.worldbook.com, offers World Book's full product line for institutional and home use, as well as a wealth of free educational content, learning activities, and media.