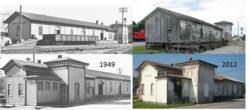 "We look forward to the depot reclaiming its position as the centerpiece of our town and its restoration will be a source of pride for all of our citizens", said Rural Retreat Mayor Tim Litz
Rural Retreat, VA (PRWEB) October 25, 2012
Quietly the check was written and the payment was made to satisfy the note for the historic Rural Retreat depot. The transaction culminated an intensive year-long community-wide effort to buy the depot in order to save it from further deterioration or destruction.
The depot was taken out of service by the railroad years ago, and sold to a local company that used it as a warehouse. Just one year ago, concerned citizens formed the Rural Retreat Depot Foundation with the mission to buy the depot and restore it as a historic landmark and community resource. Generous donations and commitments from the community and from friends across the country, including a $30,000 gift from the Town of Rural Retreat, provided the $90,000 purchase price. The Foundation has already started to look forward, developing plans for revitalization and obtaining the necessary funds for its restoration. "The Foundation is extremely grateful for the contributions made thus far, " noted Chuck Miller, Foundation President. "Now that we own it, we can plunge forward with the restoration. Our goal is to bring the depot back to its former glorious position as a foundational part of the community." The group plans to restore the exterior to its historic appearance and to create a functional community resource inside, but significant structural repairs will be required.
The depot was made famous by O. Winston Link in his 1957 photos and recordings documenting the end of the steam train era in America. "We look forward to the depot reclaiming its position as the centerpiece of our town and its restoration will be a source of pride for all of our citizens", said Rural Retreat Mayor Tim Litz. The restoration is truly a community effort. "Membership participation will help guide us toward having a cultural venue that embodies the community spirit," added Jim Lloyd, a local merchant and Membership Committee Chairperson. Membership applications are available on the Foundation website or from most local merchants.
The Rural Retreat Depot Foundation
The Foundation is a 501(c)(3) public charity that is seeking tax deductible donations and support to restore the historic Rural Retreat Depot. Cash contributions for the restoration will complement the donation of services by local contractors and artisans. To make a donation please visit the Foundation website at http://www.theruralretreatdepot.com, or send your check to The Rural Retreat Depot Foundation, P.O.Box 843, Rural Retreat, VA 24368. Follow our progress on Facebook at Rural Retreat Depot Foundation and Twitter @SaveRRDepot.