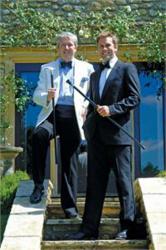 Where Fashion Meets Function at Walking-Canes.Net
Lady Lake, Florida (PRWEB) October 17, 2012
Today men looking to make a statement in fashion are now turning to Walking Canes to accessorize. Canes can become a part of anyone's lifestyle whether you need it for support or just using it to add a little fashion.
Walking-Canes.Net has just received a new line of men's distinctive walking sticks made in Europe. These canes are made from the highest quality materials and made with great care by expert craftsman. Take a look at the entre line and see for yourself the styling and quality of these walking sticks.
The McArthur, The Churchill, The Carnaby Street, and The Saville Row are just a few of the many new styles of mens walking canes we have put together for you collection. Distinctive men's fashion canes are making a big come back in fashion. With over 200 new styles to choose from one can certainly find a match for their lifestyle.
Some people prefer the age old Classic Country Hiking and Walking Sticks. Today we received from England the all new T-Handle Hardwood, Shepherd's Staff, Crosshead, and the Knob Handle sticks. Each of the sticks is grown from the forestry of one of Europe's major suppliers. A limited supply is available to the US market.
Men do not forget your ladies if you want to stay out of the dog house. The new selection also includes our fashionable ladies walking canes as well.