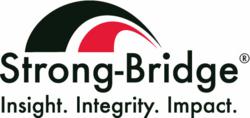 Seattle, WA (PRWEB) October 16, 2012
Puget Sound Business Journal announced that Strong-Bridge LLC ranked number 48 on the 100 Fastest-Growing Private Companies list at an awards event at Meydenbauer Center on Oct. 11. The event, which drew nearly 500 people, announced and honored all 100 companies on the list and revealed each company's ranking. The 100 Fastest-Growing Private Companies are listed, with select companies profiled, in a special publication of the Business Journal on Oct. 12.
"The companies that make this list are, by definition, among the most dynamic in our region," said Business Journal Publisher Gordon Prouty. "Especially this year, making membership on this elite list is all the more impressive, and these companies are showing all of us what qualities it takes to grow in challenging times."
The Fastest-Growing Private Companies program was launched 17 years ago by the Puget Sound Business Journal to identify and recognize companies speeding to the top of their industries. To be eligible, companies must: be privately held and headquartered in Washington; have at least $500,000 in net revenue in 2009; show an overall growth from 2009 to 2011 calendar years; and agree to submit their net operating revenues with Puget Sound Business Journal.
"Being a local, trusted partner for companies has been a focus of ours from the start, earning us a 100% client referral rate" states Tom Rayner, Strong-Bridge President. "We are proud to have earned our clients' trust, from strategy all the way through to reality, and for being a firm honored for creating jobs and making a positive impact within the Puget Sound community."
Puget Sound Business Journal is the region's premier source of business information, serving an unparalleled audience of business and community leaders. In addition to the weekly newspaper, the Business Journal provides daily updates via its web site and email alerts. The company also plays a vital role in bringing the area's leadership community together by hosting a wide variety of events throughout the year, from the Women of Influence awards event to the Washington's Best Workplaces event at Safeco Field. Puget Sound Business Journal is a unit of American City Business Journals, which operates 40 local business newspapers throughout the United States. Visit Puget Sound Business Journal on the web at http://www.pugetsoundbusinessjournal.com, http://www.facebook.com/pugetsoundbusinessjournal, http://www.twitter.com/psbj
About Strong-Bridge
Strong-Bridge LLC is a professional services firm that provides strategic leadership and execution excellence for clients ranging from startups to Fortune 100 corporations. With Customer Experience at its core, Strong-Bridge provides thought leadership and expertise in areas of product, marketing, sales, and service strategy, process and operational optimization, and program and project management. With a "strategy to reality" approach, Strong-Bridge has completed hundreds of complex and game-changing initiatives for companies such as T-Mobile, Microsoft, Starbucks, Expedia, AT&T Mobility, Premera, and GCI.
Founded in 2003, Strong-Bridge has earned a 100% client referral rate with over 120 professional consultants in Seattle and Toronto.
For more information, visit http://www.strong-bridge.com