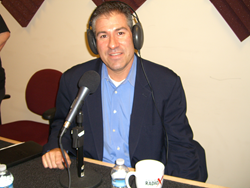 The speakers are the secret sauce to this day-long Brain Spa.
Atlanta, GA (PRWEB) October 16, 2012
On October 15, 2012, BusinessRadioX®'s High Velocity Radio welcomed Al Meyers with TEDxPeachtree. Co-hosts Stone Payton and Lee Kantor talked with Meyers about the upcoming TEDx event happening in Atlanta on November 2nd.
TED is a nonprofit devoted to Ideas Worth Spreading. It started out (in 1984) as a conference bringing together people from three worlds: Technology, Entertainment, Design. Since then its scope has become ever broader. In the spirit of ideas worth spreading, TED has created a program called TEDx. TEDx is a program of local, self-organized events that bring people together to share a TED-like experience.
According to Meyers, "Our event is called TEDxPeachtree, where x=independently organized TED event. At our TEDxPeachtree event, TEDTalks video and live speakers will combine to spark deep discussion and connection in a small group."
Meyers describes the presenters as unique, unconventional and personal. There is no pitching or promoting an agenda, but more just telling a story. "The speakers are the secret sauce to this day-long Brain Spa," says Meyers.
When Kantor asked Meyers to explain how TEDx chooses who will take the stage, Meyers explained that there is a team who assesses possible speakers. Each speaker chosen must be in alignment with the theme (which this year is Transcend), they must have a uniqueness of idea, and they must be able to make people laugh, cry and be emotionally stimulated and challenged.
Payton had the chance to attend TEDxPeachtree last year and remarked that the thing he liked the most was how the sessions were catalysts for further conversation with other attendees. Meyers agreed that the networking is a key element of TEDx.
TEDxPeachtree 2012 happens on November 2nd at The Buckhead Theatre. Space is limited and tickets are going fast. To link to TEDx's registration, as well as listen to the entirety of this interview, please visit High Velocity Radio.
About Stone Payton:
For over 24 years, Stone Payton has been helping organizations and the people who lead them drive their business strategies more effectively. He is a managing partner at BusinessRadioX® and the author of SPEED®: Never Fry Bacon In The Nude: And Other Lessons From The Quick & The Dead, and has dedicated his entire career to helping others produce better results in less time.
About Lee Kantor:
Lee Kantor has been involved in Internet radio, podcasting and blogging since he started the Dr. Fitness and the Fat Guy show in 2005. Since then, Lee has interviewed well over 1000 entrepreneurs, business owners, authors and celebrities on a variety of shows and at live events. In addition to his hosting duties, Lee is a managing partner at BusinessRadioX® and is committed to helping entrepreneurs and business owners in Atlanta learn how to use radio to dramatically grow their businesses.
About High Velocity Radio:
http://highvelocityradio.businessradiox.com
High Velocity Radio celebrates Top Performers Producing Better Results In Less Time. The show brings in business leaders and experts to talk about their methods and to help listeners develop the Competence, Confidence, and Commitment to Succeed With SPEED.
About BusinessRadioX®:
BusinessRadioX® provides a turnkey solution for business owners who want to leverage the power of internet radio to meet their best prospects, establish credibility for their organization and heighten the placement of their brand in search engines rankings. With a professional venue and a proven formula, BusinessRadioX® helps hosts podcast their shows and create a regular stream of dynamic content to share with their prospects and feed the search engines every week. Programs are recorded and streamed live to the internet from our studios in the greater Atlanta area. For more information or to hear a live show, visit: http://www.businessradiox.com.