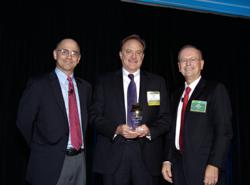 Altamonte Springs, FL (PRWEB) October 17, 2012
Stephen Vogt, Pharm.D., President and CEO of BioPlus Specialty Pharmacy was awarded the Health Care Stars! Award for Consumer Protection by URAC, a leading health care accreditation organization. The honor was announced at the 2012 URAC Quality Summit and Awards Program October 9-11 in San Francisco, CA. This award recognizes those who have demonstrated a commitment to the welfare of health care consumers through saving and improving lives, preventing adverse health outcomes, and other positive changes.
Dr. Vogt established BioPlus as a new model of specialty pharmacy: one that treats patients with individual pharmaceutical care plans to ensure that their biologic specialty medicines have the best possible outcomes. In reaching that goal, Dr. Vogt created a unique technology tool called Therapy Access Portal (TAP App), an application that can be used by prescribers on smart phones, tablets, and laptops. The app improves patient outcomes, reduces risks, promotes collaborative communication among the entire medical pharmacy care team, and helps to control costs.
"Dr. Vogt doesn't sit back and wait for technological advances to arrive to the marketplace; instead he follows his vision of creating new and useful technology," shares Elvin Montanez, Pharm.D., Senior Vice President at BioPlus. "We've seen that his investment in technology, such as TAP App, supports successful treatment outcomes, which in turn raises the bar for the entire specialty pharmacy industry. TAP App gives prescribers immediate access to the pharmacy chart. This web-based portal connects physicians with extensive information about their patients who are being treated through our specialty pharmacy."
"The Health Care Stars! Awards recognize individual health care professionals who deliver on the mission of protecting and empowering consumers and promoting quality care through their daily work," said Alan P. Spielman, URAC President and CEO. "These individuals are true heroes of health care management, serving as role models for how to make a real difference in the lives of health care consumers."
URAC's 2012 Health Care Stars! Awards were open to any individual who works for the more than 500 organizations that have earned or are in the process of earning URAC accreditation. The Awards were judged by a panel of health care industry experts including URAC advisory committee members, board members and key leaders from accredited organizations. The panel reviewed all of the nominations, looking for specific accomplishments and clear results that the nominee had made a positive impact on the health of the consumers they serve.
About BioPlus Specialty Pharmacy
Dr. Stephen Vogt is the founder of BioPlus, a pharmacist-owned, URAC accredited, national specialty infusion pharmacy providing high-touch services and specialty pharmaceuticals for patients with chronic diseases such as hepatitis, bleeding disorders, immune deficiencies, neuromuscular disorders, cancer, and other conditions. Licensed in all 50 states, BioPlus is one of the nation's largest independent specialty pharmacies. Accredited by VIPPS, Accreditation Commission for Health Care (ACHC), and the Community Health Accreditation Program (CHAP), patients can contact the Pharmacy toll free at 1-888-514-8082.
About URAC
URAC, an independent, nonprofit organization, is well-known as a leader in promoting health care quality through its accreditation, education and measurement programs. URAC offers a wide range of quality benchmarking programs and services that keep pace with the rapid changes in the health care system, and provide a symbol of excellence for organizations to validate their commitment to quality and accountability. Through its broad-based governance structure and an inclusive standards development process, URAC ensures that all stakeholders are represented in establishing meaningful quality measures for the entire health care industry. For more information, visit http://www.urac.org.