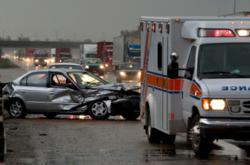 DUI is one hundred percent preventable, but many people do not think they will ever find themselves responsible for the death or injury of another person because of their drinking and driving
Sacramento, CA (PRWEB) October 15, 2012
Six-year-old Henry Perez-Rocha has not spoken or moved since Friday, when he and his brother were hit by an allegedly drunk driver.
The boy has not responded since the accident that also injured his brother, eight-year-old Juan Perez-Rocha, who was released from the hospital earlier this week. The two boys were walking to school with their mother about 8:00 a.m. on Greenback Lane when a car driven by Tresa Bales-Sterba, 52, collided with them. Police arrested Bales-Sterba on suspicion of felony DUI. Her family claims she was taking prescription medicine at the time of the accident.
The Perez family parents are currently unemployed and are struggling to meet medical expenses, according to family members.
Skycrest Elementary, the school where the boys attended, held a car wash fundraiser on Saturday to raise money for medical bills. Xavier Reyes of Hiram Johnson High School in Sacramento also decided to help after seeing reports of the accident on television, and held his own car wash on Saturday, as well.
Chase Bank has also established the Juan and Henry Perez Trust Fund, where donations can be sent directly to Account Number 423873525 and marked "Perez Trust Fund."
John Demas, senior partner at Demas Law Group, P.C., observes that "Accidents like this are, unfortunately, not uncommon. DUI drivers cause untold suffering through their actions. Sadly, DUI is one hundred percent preventable, but many people do not think they will ever find themselves responsible for the death or injury of another person because of their drinking and driving."
Law and Liability in DUI Accidents
Given the prevalence of DUI accidents, state legislatures have been moved to raise the penalties for DUI convictions, even for first offenses. Currently, there are two types of DUI charges in California: misdemeanor and felony DUIs. Felony DUIs carry much stiffer penalties and longer jail sentences than misdemeanors. Drivers can be charged with felony DUI if they have multiple convictions or if they cause bodily injury or death in an accident.
DUI drivers may be sued by a victim or survivors for the injuries they cause. In many cases, the fact that the driver willfully got behind the wheel of a car after drinking leads to much larger settlements than those recovered in true "accidents." Further, the owners of bars, restaurants, and clubs can also be held liable if they knowingly serve visibly intoxicated patrons then allow them to drive.
About Demas Law Group, Sacramento accident attorney
The Demas Law Group, P.C., represents victims of DUI and other types of accidents. Cases handled by Demas Law include auto accidents, pedestrian crashes, catastrophic accidents, product liability actions, medical malpractice, nursing home abuse, and wrongful death.
Attributes:
KCRA News, "Boy, 6, in a coma after being hit by alleged drunk driver," Sharokina Shams, October 11, 2012.