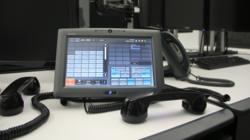 We are proud of our partnership with DAS USA... Our strengthening relationship, and combined desire to continually update both the desk and technology environments in the showroom have provided a dynamic and interactive climate for our customers.
New York, NY (PRWEB) October 16, 2012
October marks the first anniversary of the opening of the trading technology showroom shared by BBH Solutions and DAS Business Furniture. The two industry leaders embarked on this joint venture to showcase DAS' trading and control desk solutions with fully functional Cisco Voice-over-IP telephony and IP Trade Networks' turret technologies. Visitors to the showroom are met with an interactive display of desk and technology configurations that demonstrate the functionality and power of BBH's and DAS' respective solutions.
The interior construction of the project was completed with sustainable building practices, under the supervision of LEED consulting firm SKYed Eco. BBH Solutions provided cloud-hosted applications that help to reduce the showroom's carbon footprint by lowering electrical usage associated with data center power and cooling. The construction project has been registered for LEED certification. Once achieved, the space will be the first LEED accredited facility in its industry.
"We are proud of our partnership with DAS USA in this venture," said Bruce Hoernecke, President and CEO of BBH Solutions, Inc. "Our strengthening relationship, and combined desire to continually update both the desk and technology environments in the showroom have provided a dynamic and interactive climate for our customers to get a sense of how well our solutions would function in their own work spaces."
BBH Solutions equipped the facility with unified communications, video conferencing, audio visual, and media solutions, including:

Cloud-hosted voice services via a Cisco Unified Communications Manager located in one of BBH Solutions' secure Network Operations Centers (NOC). The services include Cisco Unity unified messaging
Cisco (formerly Tandberg) Room Telepresence video conferencing
IP Trade Networks trading turrets
Sharp 70" wall-mount High-Definition TV for media and presentations
Samsung 55" Smart High-Definition TV
Crestron DM 8G+ "One Wire" digital media solution
HP desktop PCs
An array of multi-sized monitors, ranging from 19" to 37" for trading desk applications
Access control system with proximity cards
Since its grand opening in October 2011, the showroom, located at 875 Avenue of the Americas in New York City, serves as an active workspace for both DAS and BBH employees, and as a venue for several educational and networking events. The range of topics covered during these events have included sustainable building practices, cloud computing and hosting, virtualization and network storage, and IP-based trading turret technology. Of recent note, DAS hosted an IIDA, CEU-approved lecture on understanding the multi-faceted activity of designing the objects that find themselves in the environments we live and work in.
"Our collaboration with BBH on this showroom has worked to the mutual benefit of both companies; and it's worked out even better for our customers," said Casey Markoe, VP of Sales for DAS USA. "Our partnership is very powerful as it enables us to provide a complete solution to our clients who are moving into a new location or renovating their existing space."
To help celebrate the anniversary event, BBH and DAS will be hosting an open-house networking reception on October 25, from 4:00 PM – 8:00 PM. For more information, or to schedule a private showroom tour, call 646-731-1122 or visit the following link: http://www.bbhinc.com/news/detail/showroom-anniversary-celebration
About DAS – DAS has earned a worldwide reputation for excellence in the design, manufacture and installation of specialized desks for trading and control rooms. Founded in 1985, they continue to meet the needs of the World's most demanding markets where they have supplied more than 500 Clients in 51 countries and in excess of 80,000 desks. After just 4 years from inception, DAS USA Inc has grown to be a recognized supply partner to several financial institutions in the Tri-State Area. For more information about DAS, go to http://www.das-bf.com.
About BBH Solutions, Inc. - Manhattan-based BBH Solutions, Inc. provides technology services with a focus on the converged network, unified communications, and IP-based Audio Visual solutions. BBH Solutions is certified by Microsoft as a Silver Server Platform Partner, and is an APC Gold Partner. BBH Solutions is certified by Cisco Systems in Advanced Unified Communications, Advanced Routing and Switching, and Advanced Wireless LAN. A leader in providing customized network maintenance plans with their BBHWorks program, BBH Solutions offers services including on-site visits, remote monitoring, business continuity planning, disaster recovery, offsite back up, and strategic IT planning. In 2009, the company partnered with IP Trade Networks to offer their IP Trading Turret solutions, which fully integrate with enterprise-class IP PBX systems such as Cisco Unified Communications Manager. In 2011, BBH Solutions launched its cloud services and integration program. BBH Solutions is a four-time consecutive Inc. 5000 Honoree for the years 2008-2011. For more information about BBH Solutions, Inc., go to http://www.bbhinc.com.