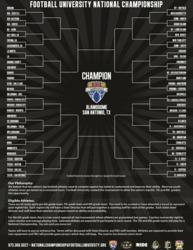 With two hundred and fifty football games in four weeks, more than 6,000 all-star athletes from 64 regions, and 350 hours of exciting content, there is nothing in America like it. This is the next big thing
Wharton, NJ (PRWEB) October 16, 2012
All American Games, producers of the largest prep football event, the U.S. Army All-American Bowl, announced today the largest national football championship ever assembled to determine the nation's top 7th grade and 8th-grade football team. In its second year, the FBU National Championship—the football version of the Little League World Series—has expanded to 64 teams competing in an NCAA-style bracket tournament to select a true national champion in youth football's 8th and 7TH-grade division. National sponsors of the tournament include adidas, Eastbay, Gatorade, Holiday Inn, Xenith, SKLZ, Jersey Mike's and SOTL.
Click here for the complete 64-team bracket: http://www.footballuniversity.org/ncbracket
The FBU National Championship kicks off Dec. 1 at various locations across America with the winners advancing in this single-elimination tournament that features 64 state-based teams. The first four rounds will take place at regional sites and the semifinals and championship will take place January 5th and 6th, respectively, at the Alamodome in San Antonio, Texas as part of the U.S. Army All-American Bowl week celebration.
This year's tournament will be the biggest youth football tournament ever put together, featuring an expansion to 64 teams nationwide, including more than 250 games, 6,000 athletes, and 1,200 coaches. The tournament will showcase 250 games through a four-week period, resulting in more than 1,000 hours of content.
All American Games will also produce a "Sports Center" style studio show, providing detailed, round-by-round updates and news, hosted by long-time national TV/radio announcer Neil Sika. All American Games executives are currently in discussions with numerous web and broadcast partners. With webcasts of each game along with the studio show, All-American Games plans to produce more than 350 hours of content.
"In only our second year, we are excited to expand the biggest youth football event in the country. This is football's version of the Little League World Series," said All American Games president Rich McGuinness. "With two hundred and fifty football games in four weeks, more than 6,000 all-star athletes from 64 regions, and 350 hours of exciting content, there is nothing in America like it," McGuinness says, "this is the next big thing".
The Championship Tournament is produced by All American Games and its premier national training academy, Football University (FBU). The 7th-grade and 8th-grade teams are comprised of the top 35 all-star athletes from various regions throughout the United States, who try-out to qualify for the 64 7th grade or 8th grade regional teams. Athletes are identified through FBU's network of state tournament directors from more than 40 FBU camps in various U.S. cities, and through those nominated on the tournament's page located at http://www.footballuniversity.org.
All American Games, LLC: Wharton, N.J.-based All American Games owns and produces elite youth/prep national sporting events and properties including the U.S. Army All-American Bowl, Football University, FBU National Championship, Eastbay Youth All-American Bowl, and American Baseball University. Web: http://www.allamericangames.com; Facebook: http://www.facebook.com/USArmyAllAmericanBowl & http://www.facebook.com/FootballUniversity.