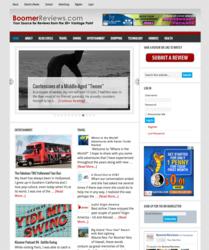 "Boomers are driving the growth of Facebook now, but until recently there was no review site catering to their needs and perspectives. BoomerReviews.com fills this gap," said Sean Glumace, Chief Operating Officer and Co-Founder.
Mission Viejo, California (PRWEB) October 17, 2012
BoomerReviews.com LLC is officially launching a new web site this week to give Boomers a voice in the realm of social proof. "We created BoomerReviews.com for two reasons," said Shannon Ingram, company CEO and Co-Founder. "First, we want to give a reliable online voice to the 50+ population, namely the 78 million Baby Boomers born after WWII. Second, we want to give marketers a new platform for sharing their products and services with this important target audience."
Today's Boomers have a combined spending power of over $2.3 trillion, according to a study by the MetLife Mature Market Institute. Compare that with Gen Y's combined spending power of under $800 million. Business is booming for companies paying attention to this vibrant, active, always influential 50+ population.
BoomerReviews.com offers engaging content such as blogs, member reviews and comments about products, services, places to go and people to see, videos, music, games, photo albums and more, all posted by and for Boomers. "Advertisers have a unique opportunity to engage this vast 50+ market with their strategic, targeted messages and strong calls to action," said Ingram.
Boomer Reviews.com Chief Operating Officer and Co-Founder Sean Glumace heads up the technical aspect of the site. "According to a recent Jupiter Research study, over 65 million Boomers are online now," said Glumace. He added, "Boomers are driving the growth of Facebook, but until very recently, there has been no single review site that caters to their specific needs and perspectives which are different from those of younger generations." The design of the site is responsive, making it easy to access on desktops, laptops and any mobile device.
Ingram is currently the Boomer/Senior Marketing expert, Executive Vice President and Managing Director of the Los Angeles office of FaceTime Strategy, the Customer Acquisition Agency. She is the author of The Heart Way – A Journey from Corporate to Care [Orren Stewart Press, 2006], about leaving her marketing career for five years to care for her elderly parents.
Glumace is an award-winning graphic designer and has been a digital arts instructor for the past 10 years at Golden West College in Huntington Beach, CA. Concurrent with his teaching career he has operated a successful graphic design firm whose clients have included the Academy of Television Arts & Sciences, Image Comics and other global companies.
Founded in August 2012, the mission of BoomerReviews.com LLC is to give Boomers a voice in the world of social proof and to be their trusted digital environment for learning, engagement and interaction with others in the 50+ population. BoomerReviews.com LLC is headquartered in Mission Viejo, CA.