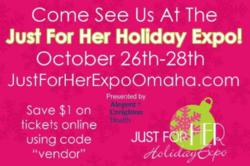 If you are a woman interested in learning more than the Just for Her Expo is the place for you ~Tracey
Omaha, NE (PRWEB) October 17, 2012
Metabolic Research Center is excited to be a part of this special event. This event was started by Aimee Jacobson of Leawood, KS out of a need to bring Kansas City a women's event in the summer. Aimee additionally owns the Just For Her Expos in Overland Park, KS and Des Moines, IA. The Kansas City Just For Her Expo, which started in 2009, has become the largest women's event in the area boasting over 250 vendors in its 4th annual event last June.
She expanded to Omaha to bring area women an annual event that wasn't available in the Nebraska market. While most cities offer a women's expo, Omaha has been missing out on this type of event. The Just For Her Expo provides all types of local and regional businesses from home-based to established brick and mortar companies with opportunities to showcase their products and services to thousands of local women.
Metabolic Research Center is proud to take part in this event as a company that specializes in weight loss and lifestyle management. Weight loss and lifestyle consultants will be available to answer attendees questions. Metabolic Research Center will be giving a discount to all attendees who sign up for a weight loss program.
The Omaha event is presented by Alegent Creighton Health and marketed by Omaha Magazine, Her Living Magazine, KETV, 98.5, Q98.5 & The Big O. For more information Visit http://www.JustForHerExpoOmaha.com.
About Metabolic Research Centers: MRC is a holistic weight loss and life management program with 75 locations in 19 states. Developed by board certified physicians and registered dieticians, MRC programs are nutritionally sound, research based and designed for long term weight-loss success.