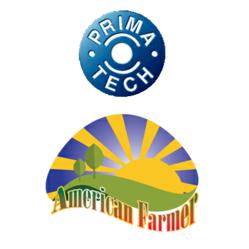 Kenansville, NC (PRWEB) October 16, 2012
Prima Tech USA, a leader in the animal health equipment applicator industry, announced today that they will be featured in an upcoming episode of American Farmer.
Founded in 1996, Prima Tech, USA provides the farmer with reliable, innovative products to meet their toughest vaccination and application needs challenges. From topical applicators and drenchers, to injectors, vaccinators, and aerosol markers, Prima Tech animal health products are continuously tested in both laboratory and field settings.
In this segment of American Farmer viewers will learn about Prima Tech, USA, and their dedication to making applicators innovative delivery solutions for easy administration of pharmaceutical, biological, and natural care products. Prima Tech, USA is focused on making their name and seal the quality mark of the animal health equipment applicator industry. Audiences will be inspired by Prima Tech's mission commitment to deliver the best possible value in animal health applicators, products, and supplies to customers around the world.
"We are very excited to be featured on America Farmer, said Kim Quinn, owner and founder of Prima Tech USA. "We look forward to sharing with the viewers our newest innovations in animal health delivery systems products."
"Prima Tech, USA provides dairy farmers, cattlemen, and hog producers with durable, reliable, and consistent animal health applicator products," said Charles Cowan, producer for American Farmer. "I'm really excited to introduce our viewers to Prima Tech, USA, and to show them some of the innovative new products that Prima Tech, USA has to offer."
About Prima Tech, USA:
Since 1996 Prima Tech, headquartered in Kenansville, NC has been providing unique and innovative drug delivery solutions to the production animal agriculture industry. Research, development, concept, design, and assembly are done at the Kenansville, NC facility. Through proven product performance, and innovation and pro-active customer service, the Prima brand is recognized globally as the benchmark in high value applicators and marking solutions.
For more information, visit: http://www.primatechusa.com or call 910-296-0306.
About American Farmer:
American Farmer is a breakthrough program on a mission to showcase the latest advancements in agriculture and farming. From seed to harvest, livestock and more, our producers have traveled the country covering the people, places, and issues impacting all areas of farm country.
For more information visit: http://www.dmgproductions.org or call (866) 496-4065.
Media Contact:
Charlie Cowan, Producer
(866) 496-4065 x 875