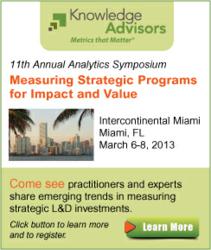 Join us at the 2013 Symposium to collaborate with like-minded peers and to learn more on best practices, challenges and emerging trends in L&D and human capital analytics
Chicago, Illinois (PRWEB) October 16, 2012
KnowledgeAdvisors today announced the 11th Annual Analytics Symposium with the theme "Measuring Strategic Programs for Impact and Value." The 11th Annual Symposium will be held at the InterContinental Miami, 100 Chopin Plaza, Miami FL 33131 on March 6-8, 2013.
The 2013 Analytics Symposium will be the premier event for training and development professionals in 2013, bringing together organizations striving to successfully measure strategic, visible and costly programs like Leadership Development and Onboarding.
"The annual KnowledgeAdvisors Analytics Symposium is a unique venue to network with the best learning leaders from throughout the world, bringing experts, practitioners and solutions suppliers together in an intimate setting to share knowledge and creative insights on the benefits of analytics," said Kent Barnett, CEO of KnowledgeAdvisors.
The event will feature speakers from leading learning organizations within General Mills, Motorola Solutions, McDonald's, Bersin & Associates, ROI Institute, and many more.
To register for the 11th Annual Analytics Symposium and take advantage of the Early Bird Pricing available through December 31, 2012, please visit http://www.knowledgeadvisors.com/events/symposium.
Register now for 2013 Symposium and you'll be able to:

Listen to creative insights from General Mills' CLO in positioning strategic programs with senior leaders through metrics.
Learn from Motorola Solutions senior learning executive as she discusses how her organization approaches the measurement of its most critical learning initiatives.
Hear McDonalds learning leadership talk about measuring the General Manager Program. Learn the strategy and tactics behind measuring this strategic learning.
Check in with Josh Bersin (CEO & President, Bersin & Associates) as he provides a research-based update on what is happening with metrics in the L&D profession.
"Join us at the 2013 Symposium to collaborate with like-minded peers and to learn more on best practices, challenges and emerging trends in L&D and human capital analytics in general," said Kent Barnett, CEO, KnowledgeAdvisors.
Breakout sessions, networking and vendor solutions are also key elements to this yearly gathering of industry leaders in training and development.
Forecasters also predict the weather will also be quite nice in Miami in March.
About KnowledgeAdvisors:
For organizations that utilize learning and development to drive business outcomes, KnowledgeAdvisors offers learning measurement software that improves the effectiveness and business impact of learning. Unlike the standard reporting and dashboard features included in most learning and talent management software, we combine data from multiple enterprise systems with information collected through evaluations and assessments to paint a complete picture of learning and business performance. KnowledgeAdvisors can even benchmark your learning programs against other organizations. For more about KnowledgeAdvisors, visit http://www.knowledgeadvisors.com