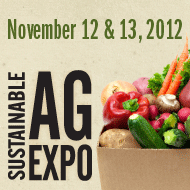 Climate change is already having an impact on farming around the world.
Monterey, CA (PRWEB) October 23, 2012
Agriculture is one of the hottest issues in the global warming debate, and one of the most intriguing. Learn how this issue applies to farmers in the Sustainable Ag Expo's general session entitled "What Growers Need to Know About the Science and Policy of Climate Change" to be held on Tuesday, November 13, 2012 at the Monterey Conference Center, Monterey, California.
This much anticipated session will feature a diverse panel of speakers from American Carbon Registry, California Climate & Agriculture Network (CalCAN), and UC Davis. They will share their unique perspectives on climate change, as well as discuss how adaptation and mitigation efforts can be part of a plan for success in a time of uncertainty.
"Climate change is already having an impact on farming around the world," said Renata Brillinger of CalCAN. "California farmers will be facing increasing water scarcity, new pest and disease challenges and extreme and unpredictable weather patterns." The Climate Change panel at the Sustainable Ag Expo will provide information on how sustainable farming practices can help slow down climate change and make farms more resilient. Speakers will also summarize policies that support the efforts of California agriculture to provide climate solutions.
The 8th Annual Sustainable Ag Expo will be held November 12-13, 2012 at the Monterey Conference Center in Monterey, California. Comprised of innovative presentations and a trade show all focusing on the latest trends in sustainability, the Expo was established by Central Coast Vineyard Team as a communication nexus for sharing information and management strategies throughout the entire California agriculture industry.
Visit http://www.sustainableagexpo.org for more information on the event, including attendee registration and the schedule of events, or call 805.466.2288.