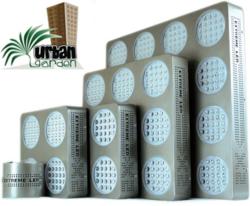 Sheffield, UK (PRWEB) October 18, 2012
Urban Garden recently became the first retail store in the UK to begin stocking and displaying genuine Hydro Grow X2 LED Grow Lights. X2 is the first line of LED Grow Lights to be offered by Urban Garden and will be featured in a number of in-store tests to demonstrate their amazing potential to interested consumers.
Hydro Grow claims the X2 LED Grow Lights are the most powerful horticultural grow lights in the world, backing this claim with the industry's only 3D photosynthetic output charts comparing them to widely-used high pressure sodium (HPS) grow lights. Recent testing shows the 336X-PRO LED Grow Light from Hydro Grow having greater photosynthetic intensity at 60" away from the fixture than a 1000W HPS at 36" away. The tests illustrate that Hydro Grow has been able to achieve two feet deeper light penetration while using less than half the power of the 1000W HPS system used by many growers today. Hydro Grow LED Grow Lights have also been awarded two world records in the past year for the highest yield ever recorded on a single autoflower plant, providing further testament to their claims of producing the most powerful grow lights in the world.
In past years the only way for UK customers to purchase a Hydro Grow light was to order it directly from the Hydro Grow website. UK customers pay a small additional shipping charge when ordering directly, and in some instances face small tariffs and brokerage fees on the imported goods from customs. While this does little to deter most customers, others expressed devote interests in obtaining Hydro Grow lights from a local UK source and refused to buy online.
Purchasing a LED Grow Light locally gives the customer peace of mind that the product has been inspected after a long shipping journey and is fully functional upon delivery. Purchasing locally also gives customers the option to pay cash and avoid the chance of small tariff or brokerage bill from customs. Local stores also provide someone to rely on in case of warranty service rather than waiting for parts to arrive internationally, and thanks to Urban Garden, UK customers now have someone they can rely on 7 days a week. Urban Garden welcomes all interested customers to visit their store in Sheffield and see the incredible new X2 LED Grow Lights from Hydro Grow.
About Urban Garden:
Urban Garden, a supplier of hydroponic supplies and lighting, has been trading in Sheffield, United Kingdom since 2004. Urban Garden takes pride in supplying customers with genuine information and always maintaining competitive prices. Urban Garden carries a large variety of products with an even larger knowledge base of the Industry, and treats every customer in the manner they would expect. For more information call 0114-244-3447 or visit urban-garden.co.uk
About Hydro Grow:
Hydro Grow, the leading provider of high-efficiency LED horticultural lighting solutions for commercial growers and agri-businesses, enables horticulturalists to reduce energy consumption over 50% while increasing operational efficiencies, crop yields, and hastening growth cycles. Hydro Grow offers third-party, data-proven solutions for greenhouses, indoor farms, research centers, and Universities, which may be eligible for energy efficiency subsidies from local utility companies and government programs. The company's 3,000+ commercial and private customers include the USDA, DOE, and multiple Universities. Headquartered in Reno, Nevada, Hydro Grow is privately owned and operated. For more information call 1-855-445-3348 or visit hydrogrowled.com.