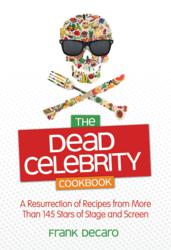 "I miss those days when celebrities still had mystery about them and a glimpse inside their radar ranges seemed, for any fan, like a window into a world of glamour and excitement. I put together this book to recapture that feeling." Frank De Caro
Deerfield Beach, FL (PRWEB) October 18, 2012
Inspired by a "Dead Celebrity Party" he attended in college – dressed as the deceased Grape-Nuts pitchman Euell Gibbons – Frank DeCaro has been collecting recipes of the rich and famous for two decades and, lucky for us, he's put them together in THE DEAD CELEBRITY COOKBOOK: A Resurrection of Recipes from More Than 145 Stars of Stage and Screen (HCI Books – $19.95) and the newest edition: CHRISTMAS IN TINSELTOWN.
A writer/performer best known for his nearly 7-year stint as the movie critic on The Daily Show with Jon Stewart, and now heard weekdays on his own live national call-in radio show on Sirius XM Satellite Radio, DeCaro gives readers a giggle with THE DEAD CELEBRITY COOKBOOKS, while feeding them such Tinsel Town treats as Liberace's Sticky Buns, Mae West's Fruit Compote, John Ritter's Favorite Fudge, Farrah Fawcett's Sausage and Peppers, and Bea Arthur's Vegetarian Breakfast.
Chock full of authentic recipes, THE DEAD CELEBRITY COOKBOOK reminds readers that before there were celebrity chefs, there were celebrities who fancied themselves as chefs. These stars were whipping up culinary delights – often on TV talk shows – and inspiring fans to do the same. DeCaro provides entertaining commentary and cutting-edge viewing guides along with the recipes. Arranged in such chapters as "Sitcom Moms Really Cook," "Batman's Kitchen Capers," "An All-Night Oscar Buffet," "A 'Psycho' Shower," and "I Lunch Lucy," a section dedicated to the red-haired TV goddess (in time for the 60th anniversary of her classic sitcom!), the book is both casual reading and cooking manual.
Says DeCaro: "I miss those days when celebrities still had mystery about them and a glimpse inside their radar ranges seemed, for any fan, like a window into a world of glamour and excitement. I put together this book to recapture that feeling." THE DEAD CELEBRITY COOKBOOK does that and delivers recipes that the stars are quite literally dying for you to make.
REVIEWS:
"While Halloween might come only once a year, there's never a bad time for The Dead Celebrity Cookbook."
– bonappetit.com
"Flip on a movie channel and get cooking! Required reading."
– Billy Heller, New York Post
"We hear Rock Hudson's Cannoli is delicious!"
– Entertainment Weekly
"In The Dead Celebrity Cookbook, author Frank DeCaro has collected and presented an array of recipes by beloved (and dead) stars…."
– people.com
"Celebrities like Elizabeth Taylor and Andy Warhol may be gone, but their favorite dishes will never be forgotten. Try one tonight!"
– oprah.com
"A veritable who's who of Hollywood's Golden Age."
– Sara Bonisteel, epicurious.com
"The book marries DeCaro's twin obsessions with movie/celebrity/pop culture and food. The recipes reflect a happier time when carbs, mayo and butter were still considered friendlies…"
– Elena Ferretti, foxnews.com
ABOUT THE AUTHOR:
Writer/Performer Frank DeCaro spent nearly seven years as the flamboyant movie critic on The Daily Show with Jon Stewart and wrote the "Style Over Substance" column for The New York Times, before launching his own daily radio show on Sirius XM Satellite Radio. The service boasts more than 20 million subscribers. DeCaro is the author of the pioneering memoir A Boy Named Phyllis and the coffee table biography Unmistakably Mackie: The Fashion and Fantasy of Bob Mackie, and now pens the "Icons" column on classic television for CBS's Watch! Magazine. Visit the author at deadcelebritycookbook.com, "like" him and the book on FaceBook, and follow him on twitter.com/frankdecaroshow.