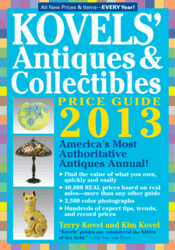 Cleveland, OH (PRWEB) October 16, 2012
Antique collectors in the know have been flocking to the Kovels for information about antiques and collectibles and their values since the publication of their first collectors' price guide. The just-published 45th edition of "Kovels' Antiques and Collectibles Price Guide, 2013" is now available in bookstores and in the online shop at Kovels.com.
Collectors love the things they collect, so why not try to use them in a fashionable and fresh way? Current decorating trends blend vintage pieces with modern furniture and accessories. "Big" is "in." Large groups of small collectibles with a unifying element are being displayed in new and unexpected ways to make a single big artistic statement. Clusters of vintage alarm clocks or white ironstone pottery, framed maps, even stacked suitcases, look like a single unit when grouped in ways that work in modern environments. That makes flea markets, auctions, shops and shows hot places to shop, and Kovels' Price Guide is the most complete and user-friendly aid to take along.
Whether buying, selling, valuing, or just thinking about assembling a decorative collection, Kovels' 2013 Price Guide is the must-have resource. It's brimming with prices, photos, facts and tips. This year the annual guide lists 40,000 current prices and features 2,500 color pictures of items, all sold during the past year. It has indexes and cross-references, and includes record prices, hundreds of logos and marks, and factory histories. And it's all sorted and edited without the auction house or museum speak that can be confusing to the average collector. "Kovels' Antiques and Collectibles Price Guide 2013" is an essential tool to help buyers and sellers understand the market and make wise decisions.
Terry Kovel, well-known expert who gives information and advice on collecting, will discuss the content of this release or any other antiques and collectibles topics with accredited media. Photographs are available. Contact pr(at)kovels(dot)com.
About Kovels.com
Kovels.com, the online portal for Kovels' Antiques, provides collectors and researchers with up-to-date and accurate information on antiques and collectibles. Kovels' Antiques was founded in 1953 by Terry Kovel and her late husband, Ralph. Since then, Kovels' Antiques has continually published some of America's most popular books and articles about antiques, including the best-selling "Kovels' Antiques and Collectibles Price Guide," now in its 45th edition. The Kovels' website, online since 1998, and free weekly email, "Kovels Komments," give readers a bird's-eye view of the market through up-to-date news, auction reports, an online Price Guide, a Marks Dictionary, readers' questions with Kovels' answers, and much more.
Contact Information:
Liz Lillis
216.752.2252
pr(at)kovels(dot)com