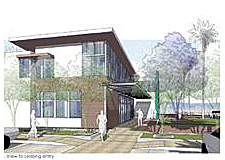 Not only did we just preserve and create much needed housing and construction jobs in the City of Los Angeles, but we also issued the largest insured loan in the history of the Los Angeles HUB
COLUMBUS, OH (PRWEB) October 16, 2012
Red Mortgage Capital, LLC, the mortgage banking arm of RED CAPITAL GROUP, LLC and provider of the most FHA insured multifamily loans nationally in HUD's FY 2012, announced today that it recently provided $190,753,100 of non-recourse construction and permanent financing with a 42-year term to Lincoln Place, an apartment community which will be substantially rehabilitated in Southern California. The loan represents the largest FHA Section 221(d)(4) unsubsidized loan ever insured by the U.S. Department of Housing and Urban Development and the 4th largest outstanding GNMA Security in the nation.
Lincoln Place, being redeveloped by Apartment Investment and Management Company (Aimco), is located less than 1.5 miles from the Pacific Ocean in Venice, California, and will consist of the rehabilitation of 696 multifamily units, and construction of an additional 99 units, a 5,033 square foot leasing center and a 6,100 square foot recreation and pool area on approximately 35 acres.
Originally developed between 1949 and 1952, Lincoln Place was conceived at that time as a Section 608 Project per the FHA guidelines for rental housing developments, which suggested:

the property be located not far from business districts of a city
the location be in a distinctly residential area which promises to retain good character
the living unit appeal to a stable rather than a temporary tenancy
the tenants income and ability to pay rent not be solely dependent on the success and continuity of a single industry
The site chosen for the Lincoln Place Apartments in the 1940's, consistent with these criteria, was near important West End points such as Beverly Hills, Brentwood, Westwood, Santa Monica, and Culver City. Now more than fifty years later, Lincoln Place is the largest garden apartment complex in Venice, California, a desirable beach community of Los Angeles that serves the western Los Angeles community and workforce, which includes the hi-tech industry as well as the entertainment industry.
The redevelopment and additional construction will expand upon the original site plan, representative of the "Garden City Movement," which is uniquely adapted to the Southern California climate. The site plan protected the feel of community by means of specific zones for resident car traffic and pedestrians, with most of the car traffic behind the buildings in small alleys leading to carports and garages resulting in virtually no through traffic. The buildings are grouped to give the occupant a feeling of intimacy and to give privacy to each dwelling, similar to living in a single family home. The original plan was also designed with significant open green space between the buildings and planted with almost 400 trees, primarily subtropical in origin, and other drought resistant landscaping which will remain intact.
Erich Yost, Supervisory Project Manager and Production Chief of the U.S. Department of Housing and Urban Development stated, "Not only did we just preserve and create much needed housing and construction jobs in the City of Los Angeles, but we also issued the largest insured loan in the history of the Los Angeles HUB".
Patti Fielding, Executive Vice President and Treasurer of Aimco stated, "We are excited that the Lincoln Place redevelopment is now underway. We have been involved with this project for many years and have worked closely with the City of Los Angeles, HUD Los Angeles Field Office and Red Capital to bring the financing to fruition. We could not be more pleased with the final terms of the loan or the collaboration between Red Capital, HUD and Aimco."
Anthony Cinquini, Senior Managing Director of Red Mortgage Capital, LLC said, "I have had the pleasure of working on other large and complex transactions with Aimco, but this one, in my home town of Los Angeles, has been my favorite. Aimco's plan to keep the original integrity of the layout of the units, with the 1950's mid-century architectural feel, in my opinion, will add tremendous value to the surrounding area. I am also pleased to work closely with the local HUD office in creating the largest 221(d)4 loan in the nation. The team work by all parties couldn't have been better".
Gustavo Serrano, MAP Underwriter for Red Mortgage Capital, LLC commented, "In facilitating the financing of this redevelopment effort, FHA's mission has truly been served. An Apartment Project will be preserved, but redeveloped to better meet the housing needs of the community while capitalizing on a housing model conceived by HUD in the 1940's and '50's that is still relevant today. Further, the significant economic benefit the redevelopment will bring will make Lincoln Place a major asset to the Venice area of Los Angeles, and its surrounding areas, for years to come. We are pleased and honored to be part of the development team."
About Apartment Investment and Management Company (Aimco)
Apartment Investment and Management Company ("Aimco") and is listed on the New York Stock Exchange (NYSE: AIV). Aimco is a real estate investment trust (REIT) that engages in the acquisition, ownership, management, and redevelopment of apartment properties. The company rents and leases its apartment units to a diverse base of residents. It also provides management services to third-party owners. As of December 31, 2011, Aimco owned a real estate portfolio of 370 apartment properties containing approximately 83,446 apartment units. As of December 31, 2011 Aimco managed 93,694 units within 518 apartment properties. Aimco's properties are located in 43 states, the District of Columbia, and Puerto Rico. Aimco was founded in 1975 and is headquartered in Denver, Colorado.
About RED CAPITAL GROUP, LLC
Recognized for its industry expertise, innovative and comprehensive structures, and consistently high rankings, RED CAPITAL GROUP, LLC has provided over $52 billion of integrated debt and equity capital since 1990 to the multifamily, student and seniors housing, and health care industries through three operating companies. Red Mortgage Capital, LLC is a leading Fannie Mae DUS® and MAP- and LEAN-approved FHA lender and a national Freddie Mac Seniors Housing Seller/Servicer with a mortgage servicing portfolio of more than $15 billion. Red Capital Markets, LLC (MEMBER FINRA/SIPC) is a leader in the distribution of Fannie Mae and Ginnie Mae Project MBS and provides structuring, underwriting, placement and advisory services for tax-exempt and taxable housing and health care bonds. Red Capital Partners, LLC provides proprietary debt and equity solutions and asset management in a range of forms including subordinated gap and bridge loans. RED CAPITAL GROUP, LLC, a subsidiary of ORIX USA Corporation, is headquartered in Columbus, Ohio and employs approximately 180 people across eight offices nationwide.
About ORIX USA Corporation
ORIX USA Corporation (http://www.orix.com) is the U.S. subsidiary of ORIX Corporation, a publicly-owned Tokyo-based international financial services company established in 1964. ORIX Corporation is listed on the Tokyo (8591) and New York (NYSE:IX) stock exchanges. ORIX USA Corporation is a diversified corporate lender, finance company, and advisory service provider with more than $6 billion in assets and an extensive portfolio of credit products and advisory services. ORIX USA is headquartered in Dallas, Texas and has approximately 1,400 employees worldwide.
DUS® is a registered trademark of Fannie Mae.