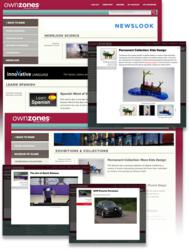 A true one of kind approach to managing and monetizing digital content
Redmond, WA (PRWEB) October 17, 2012
OwnZones, a convenient online marketplace for discovering, accessing and managing paid subscriptions from niche and major media content providers across the web on a single site with a single bill, has rolled out a beta version of the site at http://www.OwnZones.com. The OwnZones site provides consumers with an innovative subscription management platform from Zuora.
"Perhaps the biggest feature of OwnZones is being able to subscribe to and consume a wide range of content from across the web and have it all billed as a single item once a month while adding and dropping subscriptions at any time," points out Dan Goman, Founder and CEO of the OwnZones Media Network, who has served as consultant and organizational leader for some of the world's most prestigious technology firms.
"The Zuora team crafted a unique solution that makes the OwnZones site a true one of kind approach to managing and monetizing digital content," adds Goman. The OwnZones concept came to Goman when he lost his credit card and found himself having to update his information across dozens of sites. The experience drove him to create a single, convenient marketplace for the media and the public to participate in
"OwnZones has big growth plans to help turn the innovative idea behind OwnZones into a reality for digital content providers and consumers," said Todd Pearson, Senior Vice President of Customer Success at Zuora. "With Zuora's subscription commerce, billing and finance solutions, OwnZones is giving consumers the power to manage the premium content they want, how they want it and where they want it. They are a company to watch."
The beta version of OwnZones is open to anyone and registration is free. Potential media partners are invited to check out the site at http://www.OwnZones.com as a new revenue stream for their content. Consumers can also start using OwnZones and provide valuable feedback that will help shape the site for a full launch.
The site is already populated with content and channels from a selection of media partners. These include videos that deliver the news from the world's leading media outlets and experienced journalists via NewsLook, audio books and video lessons to learn a new language fast from Innovative Language, hundreds of hours of automotive video programs from WheelsTV, youth sports training videos for coaches and parents from PlaySportsTV, faith-focused eBooks across a range of categories from Worthy Publishing, dance-themed video programs from TenduTV, and more.
Additional content channels from media partners are being added regularly as they join the OwnZones ecosystem. Recent and upcoming additions include more than 70 yoga video sessions from beginner classes to advanced poses from YogaSessions.TV, marketing how-to guides and webinars from Demand Metric, online courses that can be transferred to accredited colleges and universities for credit through WorkWorld Learning, training videos on using Microsoft Office products from Total Training, plus Christian music albums and songs from Save the City Records. Instructional videos about mastering digital photography along with personal investing, money management and small business strategy eBooks are also shortly on the way.
"It's always exciting to bring a new business to fruition," concludes Goman. "But it's always a little easier with companies like Zuora on your side."
Visit http://www.OwnZones.com to learn about, register for free to use, and provide feedback on OwnZones.