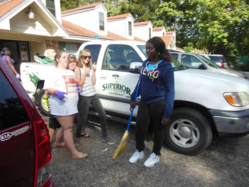 Tallahassee, FL (PRWEB) October 16, 2012
Superior Painting, a family owned commercial painting business in Tallahassee, recently announced their most recent philanthropic efforts--donating their time and numerous gallons of paint to benefit the PACE Center for Girls. The PACE Center for Girls, Inc. is a Florida-based, 501(c)3 non-residential prevention program for at-risk girls and young women. Recognized as national model for keeping girls out of the juvenile justice system and improving school success, employment and self sufficiency amongst girls, PACE's mission is to provide girls and young women an opportunity for a better future through education, counseling, training and advocacy.
"Many of the girls who come to PACE are victims of physical or sexual abuse, and are behind academically or have dropped out of school," said Mary Marx, president and CEO of the PACE Center for Girls. "PACE helps them turn their lives around by providing gender-responsive education, counseling and career planning." The only statewide effort of its kind in the United States, PACE has served more than 23,000 girls in 17 locations across Florida.
Superior Painting donated a crew and 20 gallons of paint to freshen up the interior of the PACE Center for Girls. Girls in the program assisted the painting crew and the event ended with a party, with live music and food to celebrate. The donation to the PACE Center for Girls signals another step in Superior Paintings' success in giving back to the community and providing excellence in customer service. Superior Painting specializing in commercial interior and exterior painting. For complete information about Superior Painting services, visit the company's website at http://www.superiorpainting.net.
About the company:
Superior Painting is family owned and operated by father and son. They specialize in residential and commercial interior and exterior painting. It is important to use a company that is licensed and insured, and Superior Painting offers free estimates within 24 hours of a call.
Superior Painting also specializes in residential painting, business and new construction. As a family owned business located in Tallahassee, FL, they have been providing their clients with the most reliable, guaranteed painting services since the 1990's. They serve the local area of Tallahassee, FL. For more information, please visit their website at http://superiorpainting.net.