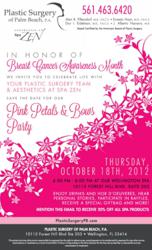 West Palm Beach, FL (PRWEB) October 16, 2012
Thursday, October 18th marks the next annual Pink Petals and Bows Party where breast cancer survivors, friends and loved ones are invited to celebrate the victories of those who have survived, and aims to create awareness of the disease within the Palm Beach area. The event will be hosted by Alan Pillersdorf MD, Dov Eidelman MD, Ernesto Hayn, MD and J. Alberto Navarro MD. The staff and professionals from Aesthetics at Spa Zen, and Plastic Surgery of Palm Beach will be present at the event from 6:00 PM - 8:00 PM.
The purpose of this special event is to better educate people about the symptoms, causes, and treatments associated with breast cancer. It is also a way to strengthen the men and women who have been directly affected by the disease. The experience of the Pink Petals and Bows Party is a bonding and memorable one where survivors and relatives can share personal stories and tales of triumph within a peaceful atmosphere. Plastic Surgery of Palm Beach will provide attendees with a variety of drinks, tasty hor d'oeuvres, customized gift bags, a raffle drawing, and much, much more.
The professionals at Plastic Surgery of Palm Beach encourage breast cancer survivors to use this event as a time to share their personal story, and wants anyone who feels affected or connected by breast cancer to join in. The associates at Plastic Surgery of Palm Beach know first-hand how life altering breast cancer can be. They want to help those who have gone through this rough journey to share their experience.
Please join us for this memorable event on Thursday, October 18th, from 6:00 PM to 8:00 PM at 10115 Forest Hill Blvd, Ste 400 Wellington FL 33414