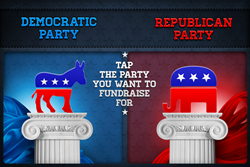 New York, NY (PRWEB) October 15, 2012
OysterLabs, a mobile application lab from prominent advertising and consumer technology veterans, today announced the first of it series of social games from OysterLabs Publishing: Party Fundraiser.
Party Fundraiser is a nationwide social game meant to create some fun around the 2012 Election. In Party Fundraiser, players select the party of their choice (Democrat or Republican) and then play a souped-up version of "Pac-Man" on their mobile phones, where the role of "Pac-Man" is taken up by Obama, Romney, Hilary, or many other characters!
Players can play by "swipe" or by "tilt" of their phone, using the devices' internal accelerometers, making Party Fundraiser a new & interesting way to play "Pac-Man". With different levels, including the White House lawn and the U.S.S. Intrepid, and secret characters to unlock (some of the most "notable" politicians of the last few decades), Party Fundraiser is a timely update on a classic!
The most important part? Party Fundraiser is a fun national contest between supporters of the two major parties. The more coins a player "eats" in Party Fundraiser, the more get donated to the National Party Coffers. The national leaderboard keeps real-time track of the tally – which party has more Funds, the percent of total Funds, the biggest Fundraisers, and the Countdown to the Election. Players can boost their play with in-game purchases such as Gadgets, New Levels and New Characters.
Party Fundraiser is being released exactly one month before the 2012 Election so everyone to have some fun and support their team during this heated election season. It is the first in a series of social games from OysterLabs, and the first Nationwide social game developed by the company.
Download Party Fundraiser now via the Apple App Store. (https://itunes.apple.com/us/app/party-fundraiser-usa-2012/id563639586?mt=8&ls=1)
Full press kit with press-release, game-specific presentation and high-res images is available here: http://www.partyfundraiser.org/PR/
About OysterLabs:
OysterLabs Publishing is the app publishing division of OysterLabs, Inc. a brand-to-consumer mobile application engine. OysterLabs provides an end-to-end managed service, from the ideation and creation of branded apps, through distribution, optimization and ROI, helping brands get the most out of their relationships with consumers.
Contact:
San Kisselev
CEO
skisselev(at)oysterlabs(dot)com