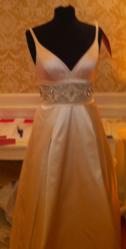 What a great deal. A Priscilla of Boston dress is now mine and I feel like I got to help another woman at the same time because its for charity.
Philadelphia, PA (PRWEB) October 17, 2012
While New York celebrated Bridal Fashion Week, Philadelphia had a unique bridal event of its own – The Wedding Dress Party. The bridal dress resale and dress auction took place on Sunday, October 14th at the historic Stotesbury Mansion in Rittenhouse Square in Philadelphia, Pa.
Nicole Farmer, a Philadelphia area native and founder of Consigned Events, LLC, came up with the event idea that benefited both former brides and brides to be, as well as young women with breast cancer. "As a recent former bride and an admirer of wedding dresses since I got my first Vera Wang keepsake book, the event was a no-brainer," she says, "I now own a beautiful dress and also would like to get a return on my personal and financial investment, by saying good bye to my dress in a fun and unforgettable way. There had to be others like me, and the idea of The Wedding Dress Party was a perfect fit."
The Wedding Dress Party was no doubt a success as brides filled the ballroom of the mansion to watch the dress couture dress runway couture show compiled of breast cancer models from the charity, Young Survival Coalition of Philadelphia, a charity dedicated to helping young women diagnosed with breast cancer.
It was a win-win for all. For former brides, it was a great hassle free way to say goodbye to their dress in style and flare while having friends and family join in the dress's send off. For brides-to-be, The Wedding Dress Party was an economically savvy option to own the dress of their dreams and a fun afternoon to mix and mingle with married women and wedding industry professionals. Featured at the event were dresses from size 2 to 20, designers such as Priscilla of Boston and Melissa Sweet, as well as a variety of veils, tiaras, jewelry, prizes and swag bag gifts from Jewelmint.com and CleanHeels Ltd. of London.
But The Wedding Dress Party was about more than the brides to be and former brides. It was about how a wedding dress can pay it forward. "There were some survivors who have not yet had their moment to walk down the aisle", says Farmer "but at the party they were walking down the runway in a fabulous wedding dress and showing off how much of a survivor they truly are. "
Based on the number of brides walking away from the event with fabulous wedding dresses for less, future Wedding Dress Party events are planned for multiple cities. The next event however will take place in Philadelphia as a pop-up swap party in November, 2012.
For more information about The Wedding Dress Party, contact Nicole Farmer at 888-215-4034, email nfarmer(at)TheWedDressParty(dot)com or visit wwwTheWedDressParty.com. Follow The Wedding Dress Party on Twitter @weddressparty #weddressparty
Consigned Events, LLC is a designer dress and accessory consignment event company started in 2012. The company proudly hosts events where women sellers relieve their closets while adding to their pockets and where each dress pays it forward to the community by partnering with a local charity.