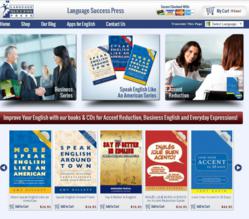 Our team was really pleased to work with Language Success Press on their website re-design. They offer a great line of products for English as a second language speakers and the redesigned site does a great job of showcasing their product line.
Ann Arbor, MI (PRWEB) October 17, 2012
Language Success Press, a provider of ESL Books, CDs, and mobile apps, has launched a redesigned website at http://www.languagesuccesspress.com. The new site showcases the company's products by category, including accent reduction, business English, and everyday English.
Other enhancements include a mobile app store with iPad and iPhone apps for English language study and a blog focusing on English language learning.
Language Success Press is an industry leader in accent reduction materials. The new site lets users demo its bestselling "Lose Your Accent in 28 Days" system, as well as view sample lessons from "Say Goodbye to Your Southern Accent" and "Inglés ¡Qué buen acento!"
Language Success Press' new website also features a Business English category — with a single click from the homepage, users can see the company's array of books and CDs for Business English, including its bestselling book "Speak Business English Like an American," which was recently mentioned in the Wall Street Journal.
"We're excited to provide English language learners, English language schools, and university ESL instructors with a better way to buy our books, CDs, and apps," said Tanya Peterson, Marketing Director at Language Success Press. "The site gives customers more ways to engage with us through social media, including Twitter and Facebook, and the opportunity to sign up for our quarterly ESL newsletter."
The site's new mobile store features the company's mobile ESL apps for the iPad and iPhone, which include Speak Business English I, Business English Power Verbs, and Speak English Like an American. Site visitors can read descriptions of the apps in English as well as in Korean, Japanese, Russian, Spanish, Portuguese, Italian, and French. Additionally, visitors can get a translation of any page on the website into their choice of 65 languages by using the Google translate bar on the site's navigation menu. According to Ms. Peterson, "Language Success Press is a global business. We ship books all over the world. Our apps are downloaded by English language learners in dozens of countries. Our new website is designed to be user-friendly for customers around the globe."
The website's blog provides free mini-English lessons, explores trends in American English language usage, and discusses new research of interest to English language learners and ESL teachers. The most recent post is entitled "Spooky English for Halloween — 10 Idioms to Try out for the Holiday!"
Language Success Press teamed up with RedHead Labs, an e-commerce development firm, on the new website. "Language Success Press offers a variety of really high-quality materials for the ESL market. It was our pleasure to work with them on a new website to highlight their products and to make shopping a better experience for their customers," said Rosanne Frazier, president of RedHead Labs.
About Language Success Press
Language Success Press is a publisher of books, CDs, and mobile apps to help people speak better conversational American English. Founded in 2002, the company now has customers in 40 countries around the world.
###