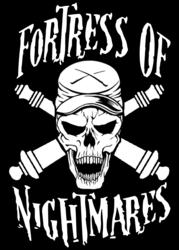 I was like, really... really scared.
Newport, Rhode Island (PRWEB) October 16, 2012
Wander the grounds of Historic Fort Adams this weekend and encounter the undead or one of history's lost souls. Take the ultimate plunge into the largest, darkest and scariest underground tunnel system in North America or join a real paranormal investigation on the surface.
For the daring and adventurous, enter the heart of darkness in the Tunnels of Terror. Wander through a narrow maze of intricate tunnels in almost complete darkness, come face-to-face with the doomed and the departed. Experience horror and mystery like never before. The terror has been completely redesigned for 2012.
For a more supernatural scare, there will be ghost hunts exploring the Fort's living quarters and bastions looking for evidence of the paranormal. The Rhode Island Paranormal Research Group, the oldest continuously operating paranormal research group in New England, will be leading small groups on a hunt using specialized instruments.
Fortress Ghost Hunts last about one-hour. Bring a camera along to record the paranormal investigation. Simply watch the hunt or use a sophisticated ghost meter and infra-red thermometers, available for rental or purchase onsite.
Tickets for the Tunnels of Terror or Ghost Hunts are $10 each. Please purchase Ghost Hunt tickets in advance on the Fortress of Nightmares website because space is limited and tickets normally sell out.
Fortress of Nightmares operates weather permitting Friday October 19 and Saturday October 20 and again Friday October 26 through Sunday October 28 from 6 PM to 9:00 PM each night. Skip the lines by purchasing tickets online at http://www.fortressofnightmares.com.
Due to the outdoor nature of the event, heavy rains will cause cancellation. Visit the Fortress of Nightmares website, or call for up-to-date closure information.
About the Fort Adams Trust:
Founded as a Non-profit in 1994, the mission of Fort Adams Trust is to direct and support the stabilization, restoration, maintenance and operation of Fort Adams as a public historic site. For More information, visit our websites.