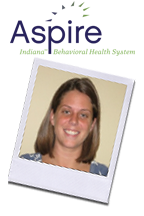 Noblesville, IN (PRWEB) October 16, 2012
Liedtke has experience in providing therapy and psychological testing services in a wide range of settings, including residential, outpatient, inpatient, and forensic. Dr. Liedtke specializes in treating children, adolescents, and families. Her clinical interests include childhood behavior disorders, trauma, parenting, and psychological testing. Doctor Liedtke graduated in 2009 from the American School of Professional Psychology at Argosy University, Washington, DC campus.
Aspire Indiana is a private nonprofit organization that provides therapy, recovery and employment services to people living with behavioral and mental health disorders, addictions and substance abuse. Aspire offer services to families and individuals of all ages at eleven locations conveniently located throughout Central Indiana, including Madison, Hamilton, and Boone, Counties and Washington and Pike Townships in Marion County.