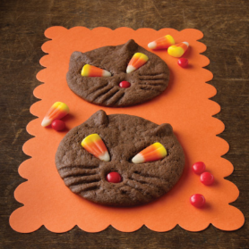 The key to great Halloween recipes is to strike a balance between scrumptious and spooky!
Arden Hills, MN (PRWEB) October 16, 2012
"The key to great Halloween recipes is to strike the right balance between scrumptious and spooky, " advises Becky Wahlund, director of the Land O'Lakes Test Kitchen. "Halloween cupcakes and cookies for younger kids should be clever and cute," she says, "while Halloween appetizers for an adult party or for teens can be a little scarier!"
Get the party off to a tasty start with Ghost Eaters Queso Blanco, a warm cheese dip served with crispy tortilla chips in fun cutout shapes. "You can easily make your own cutout chips using flavored tortillas and Halloween cookie cutters," Wahlund says. "Look for yellow, white, red and green tortillas in the refrigerator case at your grocery store or local ethnic market. The different colors, flavors and shapes make these tortilla chips even more fun to eat, and they're a great complement to the creamy, white cheese dip."
Sandwiches make an easy meal, and when served on small buns, they're perfect for appetites of all sizes. "Our Mini Monster Sandwiches can be made the morning of the party and refrigerated until you're ready to serve," says Wahlund. "Use your imagination when decorating the top bun or let your guests decorate their own and see who comes up with the spookiest sandwich creation."
Candy corn can be a fun ingredient in Halloween dessert recipes, including Candy Corn Chocolate Cake, Scarecrow Treats and Black Cat Cookies. "Halloween is all about sweet treats and candy, and if there's one candy that everyone associates with Halloween, it's candy corn," Wahlund says. The Test Kitchen uses candy corn as a primary ingredient in some Halloween treats and as a simple decoration in others. Store-bought decorator icing and gel in tubes are convenient ways to decorate. "Or use a pastry bag filled with white icing and fitted with a plain tip to create an amazing spider web pattern on top of a cake," says Wahlund.
For an especially cute Halloween treat, Halloween Hoot Owls are just the ticket. "These little cupcakes look really impressive on a dessert tray, and it's such an easy recipe," says Wahlund. "Let the kids help decorate and you'll have a flock of cupcakes finished in no time at all."
The Land O'Lakes Test Kitchens are always developing fun new recipes for holiday entertaining and everyday meals. Visit the landolakes.com website and sign up for The Measuring Cup® Newsletter, a monthly email containing recipes, cooking tips and free coupons from Land O'Lakes.