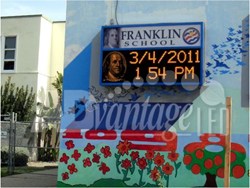 "An LED sign enables a school to communicate more effectively with their students, parents, staff, and community." Richard James, ADvantage LED
Houston, TX (PRWEB) October 22, 2012
Advantage LED Signs (http://www.advantageledsigns.com) recently announced the completion of a school sign for Franklin Elementary School in Santa Monica, CA. The sign, approximately 3' x 8', is an Amber Grayscale single face display, says Advantage LED Signs representative, Richard James.
"An LED sign enables a school to communicate more effectively with their students, parents, staff, and community, improving the school's ability to display announcements in real time." says James. Apparently Dennis Chavez, contact for the Santa Monica school system, agrees. Says Chavez, "It's not wise to always count on the children to get the word out to their parents about important events going on at school. The board does what we need it to do and more." Franklin Elementary's new purchase was one of five LED school signs installed for the Santa Monica School District. The school, which serves grades K-5 in Santa Monica, uses the sign to display a wide variety of messages to the community. "The sign helps us reach out to the parents and makes them feel connected to us, whether they have students here or not. Some people passing by just enjoy seeing the time and temperature, but we also use it to post congratulations to students on achievements, announce up-coming school closings and notify parents of last-minute changes in the school schedules. We've had nothing but positive comments from everyone after the sign went into operation." says Chavez.
According to James, of Advantage LED Signs, this is a common reaction to new digital signs, as old manual ones are becoming outdated. Says James, "The old sign boards are limited; subject to student vandalism, and often left forgotten with old messages for months at a time. This no longer has to be the case. Outdoor LED school signs solves all of these problems and adds a number of other useful features as well. LED signs from Advantage LED Signs can display videos, school logos, photos and animated text. They come with user friendly software that can change the sign with the click of a button."
Chavez says that the learning curve for his staff was very short and that Advantage was excellent in the support they provided stating, "They provided the Site survey, ID cabinet manufacturing, LED sign manufacturing, installation, software training, and support. Nothing was left to chance." In closing, James explained, "School Signs are an asset to the community. They can serve as a landmark for years to come, so we guide our customers every step of the way to make sure it is an attractive addition."
About Advantage LED Signs:
Established in 2009, Advantage LED Signs is a US manufacturer of LED signs and LED Billboards, selling direct to businesses and organizations nationwide. Advantage LED Signs operates as a total turn-key solution provider, stating that no job is too big or too small.