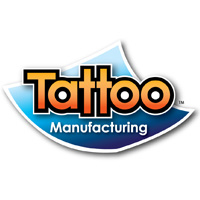 "We manufacture all of our products in the USA, which is a strong selling point to our customers and gives us a significant advantage when it comes to turnaround time." -Steve Tooker, Tattoo Manufacturing President & CEO
Tucson, AZ (PRWEB) October 16, 2012
Tattoo Manufacturing, the world's largest temporary tattoo manufacturer, is proud to announce its nomination for a 2012 Tucson Metro Chamber Copper Cactus Award. The company is among the award program's alumni, having claimed a win in 2010 for Best Place to Work. This year, Tattoo Manufacturing will compete against several other local companies in the Business Growth category.
Business Growth is a fitting category for Tattoo Manufacturing. The company started small, out of the founders' garage, in 1989. Twenty-three years later, Tattoo Manufacturing employs more than 100 people in Tucson and dominates the US and global temporary tattoo market, printing an average of 7 million temporary tattoos every day (that's right – 7 million a day!). In the past three years, the company has experienced a period of intense growth in revenues and hiring.
How has Tattoo Manufacturing grown so quickly in a struggling economy? President and CEO Steve Tooker explains that the company stands out from its competition. "We manufacture all of our products in the USA, which is a strong selling point to our customers and gives us a significant advantage when it comes to turnaround time. We have a tested, safe manufacturing process that adheres to strict international product standards. And, our team of artists is made up of long-term employees that are the best in the world at creating unique, fun products and packaging."
Through its various sales divisions, including retail, vending, and e-commerce, Tattoo Manufacturing works with more than 40,000 customers around the world – including major multinational corporations, leading retailers, small businesses, and individual consumers. The company's product line includes custom, licensed, and in-stock temporary tattoo designs, Magic Paint watercolor paint activities, ColorUps coloring posters, and licensed stickers. The Tattoo Manufacturing team looks forward to developing new products and continuing to create stellar customer experiences in the years to come.
The Copper Cactus Awards will be presented in Tucson on November 13, 2012.
About Tattoo Manufacturing
Tattoo Manufacturing, a division of TMI Acquisition LLC, is the largest manufacturer of temporary tattoos in the world. The company designs and manufactures all of its products in Tucson, AZ. Products are non-toxic, hypoallergenic, use FDA certified colorants and comply with CSPC/CPSIA and ASTM requirements. All products exceed US, Canadian and EU safety standards. The company's products have a worldwide reputation for quality. Visit http://www.tattoosales.com or call 1-800-747-8016 for more information.