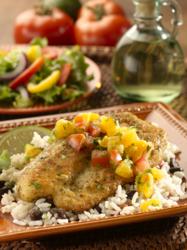 Gorton's offers 20 items with 200 calories or less. With October being National Seafood Month, now is the perfect time to explore the many varieties that Gorton's has to offer.
Gloucester, Mass. (PRWEB) October 16, 2012
Gorton's Seafood has been America's Trusted brand for great seafood since 1849. While most commonly recognized for their beloved and iconic Fish Sticks, Gorton's Seafood has also become a go-to source in recent years for consumers looking for delicious lean protein meal options that help maintain a healthy diet. In fact, Gorton's offers 20 items with 200 calories or less, including expertly seasoned Grilled Tilapia, Salmon and Alaska Pollock Fillets, lightly breaded Skillet Crisp Tilapia, and delicious Shrimp Scampi. With October being National Seafood Month, now is the perfect time to explore the many varieties that Gorton's has to offer. And, to encourage consumers to try some of their many tempting seafood items, Gorton's is giving away free seafood for the entire month of October!
Gorton's "Did You Know?" giveaway runs through October 31 and offers consumers the chance to win daily giveaways of free seafood and fun items such as Gorton's t-shirts. The brand is also offering its first-ever Facebook coupon during the same time period.
One goal of the "Did You Know?" campaign is to share some lesser-known facts about the iconic seafood brand and its products.
"Consumers love us for our classic crunchy Fish Sticks and flavorful Beer Batter Fillets," said Zach Soolman, Director of Consumer Marketing. "But they are happily surprised to learn that we also offer such a wide variety of delicious and convenient seafood options that are 200 calories or less. We're enjoying sharing other fun facts about Gorton's and the goodness of seafood with our consumers during our Did You Know promotion."
The brand is also using National Seafood Month as a time to educate consumers on the importance of regularly incorporating seafood into their diets as part of a healthy lifestyle. For example, a post on the Gorton's Facebook page during the Did You Know campaign notes that the natural Omega 3 found in seafood could be very beneficial for a number of reasons, including promoting heart health, improving arthritis and joint pain, enhancing brain growth and development, and reducing the symptoms of Alzheimer's disease. Many organizations including the American Heart Association, the American Cancer Society, the American Diabetes Association and the USDA have recommended incorporating seafood twice a week.
Gorton's makes it easy for consumers to find ways to "fishify" family favorites. For tips, please visit http://www.gortons.com/recipes or check out the brand on Pinterest. Gorton's Seafood is also on Facebook and Twitter (@gortonsseafood) where consumers may connect with the brand and be the first to hear about news, contest announcements and special promotions. Gorton's offers downloadable coupons and a free digital newsletter that provides monthly recipes and coupon offers on the Gorton's website, http://www.gortons.com.
About Gorton's Seafood
Founded in 1849, Gorton's is one of America's oldest continuously operating companies. Headquartered in Gloucester, Massachusetts, Gorton's continues to be the innovative leader in the seafood industry by striving to meet its mission of helping people everywhere enjoy the goodness of great seafood. Gorton's full line of frozen seafood products includes Breaded and Battered Fish Sticks and Fillets, Grilled Fillets, including Tilapia and Salmon, Premium Fillets, Premium Shrimp, Flavored Fillets, Tenders, Popcorn Shrimp and all new Skillet Crisp and Simply Bake. Gorton's products are available nationwide in better independent and chain grocery stores. Gorton's proudly stands behind its products with its "Trust the Fisherman Guarantee," which represents an unwavering commitment for over 160 years to providing the best-tasting, highest quality seafood meals. The Gorton's Fisherman, in his yellow slicker and rain hat, has become an icon symbolizing this commitment. For more information, please visit http://www.gortons.com.
###