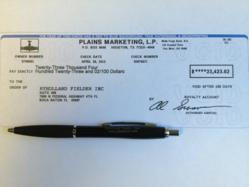 Now is the time for all of us to gain control of our financial future. Owning hard assets like monthly oil production revenue streams will give you the opportunity to magnify your wealth and secure longterm oil well interests for you and your heirs.
Fort Lauderdale, Florida (PRWEB) October 19, 2012
Ron Walblay: An Expert in the Oil and Gas Field, with more than 30 years experience, has found new producing oil wells in Texas.
Ron Walblay, CEO of RyHolland Fielder, Inc. has been a business-oriented individual since he first attended St. Joseph's College in 1972. He studied business at St. Joseph's for one year, and then transferred to Illinois State University, where he graduated in 1977 with a Bachelor of Science degree in Business Administration. In 1982 Ron Walblay founded Blue Flame Energy Corporation. He claimed ownership of 50 percent of the company and served as its secretary-treasurer until it was sold in 2010.
Ron Walblay has been president of RyHolland Fielder, Inc. in Fort Lauderdale, Florida, since its establishment. Having had more than 30 years of experience within the oil and natural gas industry. Mr. Walblay has discovered new oil producing wells in Callahan County, Texas.
Ron Walblay's current projects with RyHolland Fielder include drilling and producing a new shallow field on the Snyder Seales Ranch in Callahan County, Texas, which has resulted in the production of oil.
1978 marked the beginning of Ron Walblay's career. On the brink of the OPEC Embargo that pushed oil prices skyward, Mr. Walblay gained valuable hands-on field knowledge and experience. Ron Walblay commands the services of oil and gas field professionals and international oil and gas field companies. The manager and other professionals at RyHolland Fielder, Inc., have an average of over thirty years experience in the oil and gas industry. Since 1978, Ron Walblay has been involved in the production of over five hundred (500) oil and gas wells.
With the year 2012 rapidly coming to a close, Mr. Walblay suggests that accredited investors should not miss out on the opportunity for intangible drilling cost ordinary loss (IDCC) deductions that will offset any source of ordinary income. These ordinary loss drilling deductions have real cash value and can reduce tax liability.
For more information, call now 754-200-6969 or visit their website: http://www.oilfieldfinder.com.