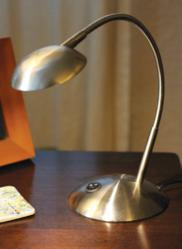 Smart, versatile, and energy-efficient LED desk lamps, task lights, and floor lamps for commercial interiors and home and office spaces.
October 17, 2012 (PRWEB) October 17, 2012
Mighty Bright, designer and manufacturer of innovative LED lights, will unveil the Spotlight LED Task Light, the newest addition to the LUX line of eco-friendly LED lights, at NeoCon East 2012, October 17-18, at the Baltimore Convention Center, in Baltimore, Maryland.
LUX is a line of smart, versatile, and energy-efficient LED desk lamps, task lights, and floor lamps, for use in offices, hotels, homes, and commercial interiors. The stylish Spotlight joins the LUX Loft collection of LED lights and boasts an original personality to fit small space lighting needs.
The Spotlight's streamlined footprint provides for versatile placement in commercial and home office spaces. Its flexible arm pivots and curves, turns and twists in every direction to deliver warm white illumination to the darkest corner. An excellent lamp for reading, writing, finishing projects, or illuminating a workstation.
LUX Spotlight LED Task Light features:

Flicker-free, high quality LEDs
Durable steel construction
Small footprint / streamlined profile
Lightweight, easily transportable
Flexible neck
275 lumens of light output
3200 Kelvin warm white light
84 CRI
50,000 hours of continuous light
36" diameter of illumination
Colors: black satin and brushed nickel
Less Energy, More Light: LUX for Workplace Lighting
LUX LED Lights by Mighty Bright are the contemporary solution for workspace lighting. LUX provides an opportunity to substantially reduce energy use in commercial office spaces while enhancing the workplace with high-performing LED task lights of artfully inspired design.
Task lighting placed at workspaces provides enhanced and targeted illumination that overhead lighting lacks allowing employees to be more focused and productive. Additionally, utilizing LED task lights in conjunction with a reduction in overhead lighting throughout a building substantially reduces energy costs and improves the building's overall carbon footprint.
LEED Certification
Using LUX LED Lights in workspaces may help achieve points toward a building's LEED certification, a commitment by industry architects, designers, builders, building owners, and others to endorse and adhere to sustainable building practices.
About Mighty Bright
Behind every LUX LED Light, you'll find Mighty Bright, designers and manufacturers of portable LED lights. Since 1985, Mighty Bright has blended ease of use and affordability with impressive functionality, durability, and portability to produce lights that bring greater enjoyment to reading, writing, and working. For more information, contact Mighty Bright: 800.922.3233 or visit http://www.lux-led-lights.com.
Visit Mighty Bright at NeoCon East 2012: Booth #2042