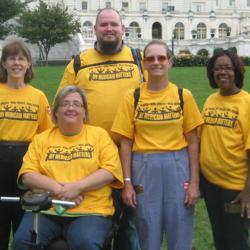 "I've heard people say they'd rather die than be forced into a nursing facility. [ADAPT and Not Dead Yet] are here to make sure that doesn't happen."
Harrisburg, PA (PRWEB) October 17, 2012
On Wednesday, October 17, ADAPT, a national direct action disability rights organization, is sponsoring the My Medicaid Matters Rally in Harrisburg Pennsylvania to oppose cuts to Medicaid home care services. Disability rights activist Pam Auer will speak on behalf of Not Dead Yet at the Rally. Not Dead Yet opposes legalization of assisted suicide.
"I'm a member of both ADAPT and Not Dead Yet," says Auer. "I've heard people say they'd rather die than be forced into a nursing facility. Both groups are here to make sure that doesn't happen."
According to the ADAPT website, "Medicaid is a hot button election issue for politicians and people with disabilities alike. [Pennsylvania] Governor Corbett's policy decisions are setting back progress in Medicaid services made by his predecessors. The federal program helps people with significant disabilities to live and work in the community; it keeps families together and can prevent people with disabilities going into expensive institutions. . . . Nationally, the Romney/Ryan plan proposes to cut Medicaid by 34% over 10 years, even as the need for Medicaid grows due to the baby boomer population. A year ago, ADAPT began the My Medicaid Matters campaign to demonstrate the national importance of the Medicaid program, and end the cuts and attacks on the essential program."
A week of ADAPT actions in Harrisburg will culminate on Wednesday with the My Medicaid Matters Rally. People from across the state will be converging in Harrisburg to highlight the important role that Medicaid plays in supporting health, independence, families and jobs.
"Governor Corbett needs to value the wisdom, knowledge and life experience of people with disabilities in Pennsylvania and develop that energy into real Medicaid reform," said Auer. "He needs to use us because it is our lives."
ADAPT's website proposes "that implementing Real Medicaid reform, which restrains spending while promoting the independence and freedom of people with disabilities, is the most cost-effective use of state public money. ADAPT proposes expanding community-based services, expanding consumer-directed services, de-medicalizing services, eliminating wasteful bureaucracy and taking advantage of "re-balancing" funding. . . . When states cut Medicaid, they not only limit services but they cut the jobs of the people who are paid by the Medicaid funds to provide services, supports and basic health care to the state's citizens. ADAPT is headed to Harrisburg to urge him to work with advocates and the disability community to implement Real Medicaid reform that contains spending while it supports the independence and civil rights of people with disabilities and older adults, and saves jobs."