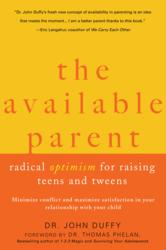 Any parent with a child—no matter what age—should read and learn from this book.
—Eileen Norris, coauthor with Mehmet Oz and Mike Roizen of You: The Smart Patient
(PRWEB) October 16, 2012
Viva Editions is proud to announce Dr. John Duffy, author of The Available Parent, already Steve Harvey's parenting expert on NBC, appearing nationally, will now appear on NPR's "Tell Me More" on October 16th.
In Dr. Duffy's most recent appearance on The Steve Harvey Show, he gave helpful advice about different parenting styles.
"In our busy, hyperscheduled lives, we often forget to give back. Yet many parents I've polled recently have told me they just want their children to be, more than anything else, good people. What better way to foster empathy in our kids, to provide them a context for understanding the world around them, for gaining perspective on their own fears and concerns, than to get directly involved." —Dr. John Duffy, The Available Parent
Dr. John Duffy's uniquely practical approach to positive parenting helps break bad habits. When hugs and family fun have been replaced by silence, slamming doors and an ever-changing array of moods, parents need new tools. Top teen expert Dr. John Duffy has encountered all of this and more in his family counseling practice and offers excellent advice, clear strategies and teen-tested solutions in The Available Parent.
Viva Editions: Books for Inspired Living:
Viva books open hearts and minds. Viva authors are practical visionaries: people who offer deep wisdom in a hopeful and helpful manner. You can be frugal AND fabulous. You can be thankful for what you have. You can take risks and achieve your long-held dreams. Your relationships can be better than ever. And, you can simply have more fun. You can take a leap of faith and change your life, knowing it is never too late for positive action.