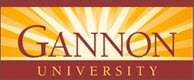 Erie, PA (PRWEB) October 16, 2012
Gannon University is pleased to announce it has once again received top rankings in the new edition of U.S. News & World Report's "America's Best Colleges." The U.S. News rankings are one of the most recognized and respected resources available to students who wish to evaluate the best higher education institutions in the United States.
In this year's rankings, Gannon was named a Top-Tier university for the ninth consecutive year. Gannon was also ranked in the top third of the "Best Regional Universities" category, and for the seventh consecutive year was designated one of the country's "Great Schools at Great Prices." Gannon is the only school in western Pennsylvania to be named a "Best Value."
Gannon University is dedicated to excellence in teaching, scholarship and service. Inspired by the Catholic Intellectual Tradition, Gannon offers a comprehensive, values-centered learning experience that emphasizes faith, leadership, inclusiveness and social responsibility.
Our inclusive and diverse learning environment carried over to our online offerings--career-oriented programs designed to continue our mission of offering an outstanding, values-centered education. The university offers a variety of undergraduate and graduate degrees in this convenient format for busy adults in an array of fields: nursing, business, public administration and engineering management.
To find out more about Gannon University's online programs, visit our website at online.gannon.edu or call 877-497-5854 to speak to an admissions advisor.
About Gannon University:
Gannon University is a Catholic, Diocesan university offering nearly 100 academic programs, including doctoral programs in physical therapy and organizational learning and leadership. Gannon enrolls more than 4,000 academically talented and diverse students.