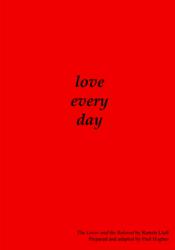 ORANGE COUNTY, Calif. (PRWEB) October 16, 2012
The two major party presidential candidates, and their picks for vice president, are facing off in debates. Very soon — Tuesday, November 6, to be exact — voters will choose between them.
But the biggest news about Barack Obama vs. Mitt Romney … or Joe Biden vs. Paul Ryan … is not their names, their parties, or their platforms: it's that little "vs." that stands between them. They have been versus each other on the national stage multiple times. Vice President Biden, political and media observers said, was especially nasty — though some called it "aggressive" and "passionate."
In a new book from Paul Hughes, love every day. It's all about love — the book and what people need — and as the title says, it can be yours … every day.
The book is based on centuries old wisdom — five centuries to be exact — and the hard work of faith. The Spanish writer Ramón Llull, some 500 years ago, set down his vision of the journey of love. Now for the 21st century, the American writer Paul Hughes has reworked Llull's words to make it available again, today. And by setting it in the first person, the book also helps people connect more directly to the goal: love.
Most changes were minor, and the basic idea of the original book — one person's journey through the hardships of love for God and others — is the same. Single thoughts are short — suitable for a quick read at any time of day — but packing a powerful punch — and you might dwell on it for days.
The 365 entries make it a great daily devotional through one year. It's free, today, for Amazon's Kindle at: http://www.amazon.com/Love-Every-Day-ebook/dp/B009IBQURY/.