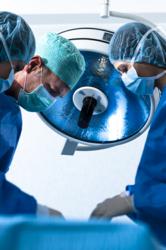 Cambridge, MA (PRWEB) October 16, 2012
The last two decades have seen substantial growth in the use of ambulatory surgical centers (ASCs) and the number of physicians who have ownership interests in these centers.
Join the Workers Compensation Research Institute's (WCRI) Christine Yee on Tuesday, October, 30, 2012 at 1pm ET (12pm CT, 11am MT, 10am PT) for a one-hour discussion on this very important issue.
Things you will learn:

How many more surgeries orthopedic surgeons who owned ASCs did relative to surgeons who were not owners
The factors that explain why orthopedic surgeon owners did more surgery than non-owners.
How much owner financial incentives encourage surgeons to do more surgery.
How physician ownership of ASCs and this study compares and contrasts to other physician self-referral issues and studies.
This webinar will draw from WCRI's study, Why Surgeon Owners of Ambulatory Surgical Centers Do More Surgery Than Non-Owners, which compared the number of knee, shoulder, and wrist surgeries performed by 941 surgeons before and after becoming an owner of an ASC.
Webinars are $35 for WCRI Members, $70 for Non-Members, and FREE for members of the press, legislators and their staff, as well as state public officials who make policy decisions regarding workers compensation. A free copy of the slides for the webinar is provided to all attendees. For those unable to attend the webinar on the day it's presented, a recorded copy will be made available for purchase.
REGISTER NOW by clicking on the following link: http://www.wcrinet.org/10.30.12_webbriefing_reg.html. Attendance is limited to 100 people and fills up quickly so register today.
About WCRI:
The Workers Compensation Research Institute (WCRI) is an independent, not-for-profit research organization based in Cambridge, MA. Founded in 1983, WCRI is recognized as a leader in providing objective, credible, and high-quality information about public policy issues involving workers' compensation systems. WCRI's members include employers; insurers; governmental entities; managed care companies; health care providers; insurance regulators; state labor organizations; and state administrative agencies in the U.S., Canada, Australia, and New Zealand.