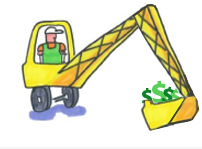 The service features hotel construction, office buildings, retail construction, medical facilities, school renovations and much more, including those hard-to-find private project leads, from planning stage through completion
Chicago, IL (PRWEB) October 16, 2012
Construct-A-Lead, the Construction Industry's most effective construction lead service, reported today that the following hospital and medical construction projects have secured the approvals necessary to move forward. Businesses interested in establishing early relationships and providing services relative to these projects should visit construct-a-lead.com and reference the Project ID listed below to obtain direct contact information for each lead:
Greensboro, GA - St. Mary's Good Samaritan Hospital, Construction of a new two-story, 75,000 square foot Critical Access Hospital. Construction start: Late, 2012, $40,000,000. Project ID: 1300410
Baton Rouge, LA - Ochsner Medical Facility, Construction of a new 43,000-square-foot medical facility and will feature a freestanding emergency department and full-service health center providing primary care and specialty services. Construction start: February, 2013 $25,000,000. Project ID: 1300372
El Paso, TX - Sierra Providence East Medical Center. Construction of a new four-story tower and the expansion of the hospital's emergency department, adding more than 145,000 square feet to the facility. Construction start: December, 2012, $67,000,000. Project ID: 1300077
Greeley, CO - The North Colorado Medical Center. Extensive renovations of the hospital to include, upgrades in the main kitchen area, new pharmacy, and utility infrastructure of the campus. Construction start: Summer, 2013, $60,000,000. Project ID: 1299094
Akron, OH - Akron Children's Hospital. Construction of a critical-care tower to include, a new neonatal intensive care unit with individual patient rooms, a new emergency department, dedicated out-patient surgical suites and space reserved for the hospital's pediatric sub-specialty programs. Construction start: Spring, 2013, $200,000,000. Project ID: 1298798
Port St. Lucie, FL - St. Lucie Medical Center. Expansion and renovation of the 229 bed facility's Emergency Department to include, 6 additional treatment rooms, 3 additional trauma rooms and an isolation room in more than 10,000 square feet of customized patient care space adjacent to the north end of the existing Emergency Department. Construction start: Late, 2012. $8,000,000 Project ID: 1298757
Harrisburg, PA – West Shore Hospital, New construction of an acute-care facility. Construction start: December, 2012, $100,000,000. Project ID: 1298760
Tucson, AZ – Northwest Medical Center, Addition to the existing medical facility to include an operating-room expansion, a new surgical wing and the renovation of one of its cardiac catheterization labs. Construction start: Winter, 2012, $50,000,000. Project ID: 1298560
Construct-A-Lead.com is an online construction projects database, helping contractors, service providers, manufacturers, distributors, suppliers and businesses in related industries gain information on all large scale commercial construction projects. The service features multi-family residential construction, hotel construction, office buildings, retail construction, medical construction, mixed use developments, school renovations and much more, including those hard-to-find private project leads, from planning stage through completion. Construct-A-Lead's daily updates of commercial construction project leads are an ideal solution for those who want to put their product or service into commercial, government and religious structures.
For more information on upcoming construction projects in your area, visit Construct-A-Lead online or call 855-874-1491