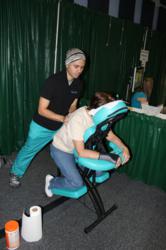 Loma Linda, Calif. (PRWEB) October 15, 2012
Special rates for membership at Loma Linda University Drayson Center; workshops, lectures, and screenings for health and fitness; and free goody bags are all on tap for participants in the upcoming Senior Health & Fitness Fair, hosted by Loma Linda University Drayson Center Senior Wellness Program.
The Senior Health & Fitness Fair, which celebrates its 10th anniversary this year, is set for 9 a.m. to 1 p.m., Wednesday, Oct. 24, at Loma Linda University Drayson Center, 25040 Stewart St., Loma Linda.
Participants in the free event may take advantage of: health and wellness lectures; aerobics and other fitness demonstrations; health service booths; health screenings, including blood pressure and cholesterol tests; massages by certified massage therapists; tours of the Loma Linda University Drayson Center; goody bags; and healthy refreshments.
In addition, during the hours of the fair only, attendees may take advantage of special, once-a-year Drayson Center membership rates.
"We are excited to welcome participants to the Senior Health & Fitness Fair," said Romy Niblack, senior wellness program coordinator at Loma Linda University Drayson Center. "We are encouraged by the warm response to the fair every year. It's a great opportunity for seniors to learn about what they can do to be more fit and healthy."
Information: 909-558-8220.
###
About Loma Linda University (http://www.llu.edu)
Loma Linda University is a Seventh-day Adventist educational health-sciences institution with more than 4,300 students located in the Inland Empire of Southern California. Eight schools make up the University organization: Allied Health Professions, Behavioral Health, Dentistry, Medicine, Nursing, Pharmacy, Public Health, and Religion. More than 55 programs ranging from certificates of completion and associate in science degrees to doctor of philosophy and professional doctoral degrees are offered. Students from more than 80 countries around the world and virtually every state in the nation are represented in Loma Linda University's student body.