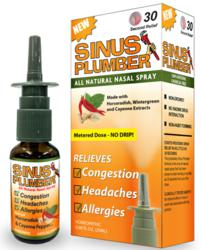 Sinus Plumber combines the power of horseradish and pepper into the fastest acting and longest lasting natural sinus remedy in the world.
Clifton Park, NY (PRWEB) October 16, 2012
GSC Products launched the worlds' first horseradish capsaicin nasal spray earlier this year, under the Sinus Plumber brand. In barely 8 months, Sinus Plumber has been added to the shelves of more than one thousand natural health stores and independent pharmacies just in time for winter sinus season. In 2013, the company projects more than 5,000 retailers, along with two of the nation's largest natural retail chains.
With the sinus busting power of horseradish, capsaicin and wintergreen, Sinus Plumber has quickly become the go-to nasal spray for thousands of people suffering from a variety of sinus, allergy and headache problems. While a slow economy is hurting many start-ups, Sinus Plumber continues to grow in the multi-billion dollar sinus category.
"The active ingredients in Sinus Plumber are designed to work together for fast relief that lasts all day without the side effects of OTC nasal sprays. Sinus Plumber relieves all types of headaches, nasal allergies and sinus symptoms without nasty chemicals and rebound effects. Plain pepper sprays are good, but when combined with horseradish the results are incredible," says Wayne Perry, CEO of GSC Products and developer of the worlds' first pepper nasal spray, Sinus Buster.
Plain pepper nasal sprays have grown in popularity over the past few years with brands like Sinus Buster becoming a top seller in big chains such as Walmart, Walgreens, CVS and Riteaid. While capsaicin nasal sprays do help relieve sinus problems, they only deliver short term congestion relief as compared to a combination spray like Sinus Plumber. When horseradish and wintergreen are added to pepper, the results are immediate and long lasting thanks to a three prong attack that targets congestion, swelling and pain:
1: Horseradish (a relative of wasabi), clears sinus congestion and bacteria thanks to high doses of glucosinolates, known for their anti-bacterial and pain fighting properties.
2: Capsaicin desensitizes tiny nerve fibers in the mucous membranes, triggering the body to release chemicals that shrink swelling.
3: Wintergreen fights headache pain thanks to high amounts of methyl salicylate, the main component of aspirin that reduces pain and inflammation.
Together, these three ingredients instantly relieve symptoms related to a variety of sinus, allergy and headache conditions for most users. Sinus Plumber is also the only non-prescription nasal spray packaged in pharmaceutical glass bottles to avoid plastic leaching. While most nasal sprays use plastic to cut costs, GSC Products has stayed committed to using glass to ensure consumer safety.
"Plastic leaching is potentially a big health problem because the chemicals in plastic nasal spray bottles end up in your nasal passages. They can easily enter through the blood brain barrier into the central nervous system and nobody knows what the real risk is. So for Sinus Plumber, we decided to stick with glass. It may cost more, but it makes sense when you're producing the best nasal spray in the world," adds Perry.
About GSC Products, LLC:
Founded in 2009, GSC products is known for developing unique natural health and beauty brands including: ThermaSkin, ThermaScalp, Acne Killer, Venomous, Youthful Trends, Turbo Snort, Turbo Sleep and Fresh Beauty Market. GSC is a privately held corporation with facilities in Clifton Park and Scotia, NY. More information is available at Greensations.com.