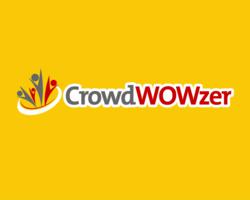 San Francisco, California (PRWEB) October 16, 2012
Robert Dobyns, CEO of Conzortia Business Funding, Inc. has announced the official launch of their new crowdfunding platform built specifically for Film, Art, Comic, Game and Mobile App Projects in the U.S.
Crowdfunding is when a group of individuals pool funds in order to support the efforts of another via the internet, social media and traditional advertising.
"CrowdWOWzer focuses on promoting concepts, ideas and products presented by artistic entrepreneurs and creative developers," Dobyns stated. "This venue will assist American artists and software developers in overcoming the tallest hurdle in promoting their concept - funding. Innovative, energetic and passionate projects will be rewarded with the needed capital to make their dreams a reality at CrowdWOWzer. And for a limited time, we will be sending out a nationwide press release to help these projects get off to a fast start and waiving our fees for successful projects."
'What are the requirements to list a project at CrowdWOWzer?' we asked.
"U.S. citizen or legal resident, with a U.S. bank account, 18 to 107 years of age and have a great concept," Dobyns replied. "We want to identify the great, creative minds of the 21st century and help them with their creative projects!"
For more information, or to list your creative project (or fund a project), visit CrowdWOWzer.