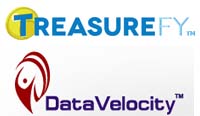 For every business that understands that digital media and cloud solutions are quickly becoming critical to growth and management, but are not sure how to proceed and implement, this seminar is a great place to start
New York, NY (PRWEB) October 16, 2012
Fast-growing digital marketing agency, Treasurefy, partners with DataVelocity, an IT management and solutions company based in Manhattan, to host a seminar showcasing how business owners can improve their online presence, get top rankings on search engines, attract more clients, as well as how to protect all their digital assets in the 21st Century. Held in DataVelocity's office in Manhattan, the seminar will take place on Thursday, October 25, 2012 from 6-8PM. The evening kicks off with a 20-minute "social hour" to allow attendees to network and mix and mingle with each other before the seminar begins. There, participants can enjoy an array of fine cheeses and wine provided by the host companies.
Following a few minutes of socializing, the seminar will begin covering two main topics: digital marketing and data protection. "For every business that understands that digital media and cloud solutions are quickly becoming critical to growth and management, but are not sure how to proceed and implement, this seminar is a great place to start," states Co-Founder of DataVelocity, Melissa Michala.
With sites like Facebook, Twitter, Pinterest, and Tumbler on the rise, it has made it increasingly easy and cost-effective for individuals and businesses alike to direct traffic to their own respective sites in an effort to maximize their online presence. Paulo Amaral, M.S., CEO and Founder of Treasurefy, notes that "in these economic times, it has become ever more important for business owners to know how to best market their companies and protect their valuable digital presence". With this seminar, business owners will learn exactly that by two companies that have proven these methods to be successful in their own businesses.
Those interested in attending the event must purchase a ticket from EventBrite, by going to dvnetworkseminarnight-es2.eventbrite.com/?rank=1. All proceeds of the event will be donated to a local charity.
To learn more about Treasurefy, visit http://www.treasurefy.com.
For more information about DataVelocity visit http://www.datavelocity.com.
About Treasurefy:
Treasurefy is a digital marketing firm that specializes in increasing profits, promoting brand awareness, and securing customer loyalty for accounting and law firms. Our experienced crew of technology experts and creative talent help you navigate the best ways to maximize your web presence and sustain your company's growth.
About DataVelocity:
DataVelocity is an IT management and solutions company based in Manhattan. They are small business specialists that are partnered with Microsoft and Dell. DataVelocity has maintained a Gold and Silver level partnership since 2008 with Microsoft. Only an elite 5% of Microsoft partners are at the Silver level, like DataVelocity, achieved by proving the highest standard quality of service and level of expertise.