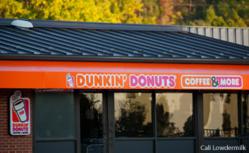 Lynchburg, Va. (PRWEB) October 15, 2012
Dunkin' Donuts will open a new location Tuesday, Oct. 16 on the campus of Liberty University.
Liberty joins nine other universities to open Dunkin' Donuts restaurants this fall throughout the Northeast, Mid-Atlantic, and Southern United States.
Students have expressed interest and enthusiasm for years in having the chain on campus, and now can look forward to a full-service restaurant offering coffee, hot breakfast, and donuts, with swift and friendly service. The new location is off Champion Circle at the former site of the Keyhole convenience store. The restaurant will operate from 6 a.m. to midnight seven days a week, closing for Convocation (10 a.m. Monday, Wednesday, and Friday).
With the addition of the new restaurant, Liberty students, faculty and staff now have 17 separate on-campus dining options. A new Chick-fil-A Express opened in the Tilley Student Center this fall.
"The Sodexo leadership team is committed to engaging student feedback and responding appropriately by offering quality, diverse dining options," said Lori Madden, district manager for Sodexo, Liberty's dining services provider.
Liberty's dining services were recently ranked in the top 20 for "Best Cafeteria Variety" by CollegeProwler.com, an online college database that uses student input.
Keith Anderson, manager of Liberty's Dunkin' Donuts, said the team is excited and ready to deliver to the students. He said students have been coming to the site over the past week eager to find out when the restaurant will be opening.
"We are really hoping that the Dunkin' brand will make it an attractive option not only for students, but the people of Lynchburg as well," he said.
Liberty University, located in Lynchburg, Va., is the world's largest Christian university. Nearly 100,000 students attend classes on its 6,800-acre residential campus and study in its thriving online education program.